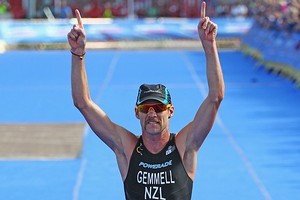 Kris Gemmell fought back tears after winning today's ITU World Cup triathlon in Auckland.
It was an emotional victory on several levels, not least because he will donate his prize money to charity Cancer Research following his cousin Tim's diagnosis of a brain tumour.
Another factor was Gemmell's illness - viral myositis - which has left him racing on "six cylinders when I want eight" and has contributed to a wretched year on the triathlon circuit.
He doesn't usually get the spotlight - his tussles with fellow New Zealander Bevan Docherty have become legendary, but he usually comes off second best. Not this time, though. Docherty's high five with Gemmell as they passed each in opposite directions on Queen Street today signalled a deserved victory for the Palmerston North man.
He celebrated long and hard down the finishing chute but quickly became serious when talking about his cousin.
"I don't know what it's like for families and people who have gone through cancer and stuff like that," he said. "I'd like to pretend that I know but all I know is I want to help and Tim got diagnosed with a brain cancer four weeks ago. They gave him a sentence and said that's how long you've got to live. I don't think that's very fair. We decided that instead of it being a sentence it was a green light to getting on with living."
Like fellow New Zealander Andrea Hewitt in the elite women's race, Gemmell's win was all about strength on the hilly Auckland course which is among the toughest on the circuit.
He had a strong swim and was third out of the water behind Slovakian Richard Varga and Kiwi Tony Dodds, who later pulled out of the run with an Achilles injury.
Dodds and Gemmell were two of four New Zealanders in the leading pack of seven on the bike - the others were Docherty and Tom Davison. Joining them were Australian Fisher and Benjamin Shaw of Ireland and they were never headed by a chase group which included number one seed Laurent Vidal of France.
Gemmell, Docherty and Davison looked the strongest on the bike, with the former testing his rivals on the many hills.
Eventually an attack worked and he quickly teamed up with Davison. "I got the feeling that all the guys were working hard ... and a couple of the guys were struggling. I thought, 'okay, I'll have a dig here' ... young Tom Davison came across and I thought 'perfect'."
Gemmell and Davison finished the bike leg together, though Gemmell made an error when dismounting too soon and having to run further. He quickly made up the deficit on the run and was never headed.
"I felt pretty comfortable on the run to be honest. I felt at any stage I could have gone faster.
"I haven't had the best of years, mainly because of some issues and I get a little sick and tired of telling people I have problems and people don't believe you," Gemmell said. "But when you're a car and you've only got six cylinders and you want eight and you're racing against the best in the world, well you just can't do it. It's just nice to be back in full health and when I'm in full health, well you can see what I can do."
Docherty revealed afterwards there were some team tactics involved in the win, which was important given the Olympic ranking points involved.
"It was important that Kris got the win," he said. "Kris is in great shape and he would have been hard to beat anyway. He deserves the win and it's great that we had some strong young guys up the front with us so we could apply those tactics."
The final Olympic permutations won't be known until after the world championships in Sydney in April.
Three spots will be up for grabs, which presumably will be filled by Gemmell, Docherty - a two-time Olympic medallist - and Ryan Sissons, who finished eighth today.
"It would be nice to get that automatic spot," Gemmell said. "I don't think people know how hard it is emotionally and physically to do an Olympic campaign. You want to race well in August but we have to also race well in April to make sure we get that spot but I don't want to sound like I can't do it but it's not ideal."
Vidal finished fourth with the fast run split of the day - 31 minutes and 58 seconds.
He said: "It's the best course I've raced but when you're not on your game it's like 'phew'. I'm really happy for Kris. He deserved it." Kris Gemmell (NZL) 1:59:58, 1; Bevan Docherty (NZL) 2:01:05, 2; Ryan Fisher (AUS) 2:01:19, 3, Laurent Vidal (FRA) 2:01:55, 4; Jarrod Shoemaker (USA) 2:02:05, 5.
Kris Gemmell (NZL) 1:59:58, 1; Bevan Docherty (NZL) 2:01:05, 2; Ryan Fisher (AUS) 2:01:20, 3.
- APNZ