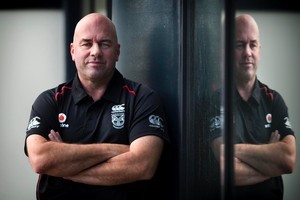 It was an obvious Achilles heel last season but Brian McClennan is satisfied with the current centre stocks at the club and won't be looking elsewhere.
In 2011, converted forwards like Simon Mannering, Lewis Brown and Elijah Taylor were all forced to spend extended periods out wide while Joel Moon has now left the club.
Stocks look thin in specialists but the new coach is confident he has the resources. He is putting his faith in Jerome Ropati and Krisnan Inu and has high hopes for a couple of the boom youngsters graduating from the Toyota Cup.
"It was difficult for everyone with Jerome [Ropati] getting hurt," says McClennan. "He's the number one centre in the team and any club would be affected. Krisnan Inu has played a lot of centre and has now played centre in two grand finals so he and Jerome are the two that stand out."
His endorsement of the mercurial Inu is surprising, as earlier reports had indicated that the Warriors had been looking to offload him - at the apparent behest of McClennan.
Meanwhile, 'Bluey' is backing centre Konrad Hurrell and Carlos Tuimavave to take the step up next season. Hurrell's powerful charges out wide were a key element of the under-20s success last season while Tuimavave starred at stand-off.
"I really think Carlos and Konrad can give it a shake," says McClennan.
"I'm very excited about those two; I just hope they are prepared to work as hard as they possibly can to become as great as we think they can become.
"Konrad is raw but talented. He has a lot of potential but it is up to him now while Carlos came through the grades at centre and I think that is his position."
McClennan is open to using Brown again at centre but expect to see Mannering firmly ensconced in the pack under the new regime.
"Lewis played there as a stop-gap but has never had a pre-season there so has never had a chance to develop, though he is still primarily a back rower. Simon is versatile and fits in wherever the team needs him but I would rather he plays back rower. That is where he belongs."
The players assemble for pre-season this week, and McClennan admits he can't wait to "get cracking. I'm looking forward to ripping in and doing some work.
"I want to meet the players, see how they adapt to what we are doing and what their conditioning is like."