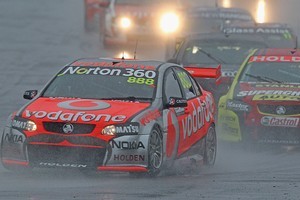 A freakish Craig Lowndes produced one of the drives of his life to preserve his V8 Supercar Championship hopes in a fight to the line with teammate Jamie Whincup.
In atrocious conditions with visibility next to zero, safety cars and crashes by the minute, Lowndes drove as if he had skis under his car. He started the day 25 positions behind Whincup and ended up in front of him by seven.
Another wet duck Rick Kelly won his second race of the year at the Norton 360 Sandown Challenge in his Jack Daniel's Commodore ahead of a resurgent James Courtney for Toll HRT. Big brother Todd Kelly was third in the second double podium for the team-mates this year.
"I'm quite thrilled to be honest," Rick Kelly said. "We went home last night with our tails between our legs but the changes we made clearly worked. It was a little tough for a few laps. It meant we had to earn our win but we deserved to be there.
"We have found a few ingredients lately which will help us in the dry and we are also good on street tracks which are great ahead of Sydney in a fortnight."
Best of the Kiwis was Shane van Gisbergen in fifth place in the SP Tools Ford, with compatriot Fabian Coulthard, celebrating news of his move to BOC Racing next year by finishing ninth.
But the big story unfolded with the effort from Lowndes.
The day started out incredibly gloomily for Lowndes. He was 27th and second last on the grid, his worst qualifying performance in any race since 2004. The Championship looked almost done and dusted. Trouble is everyone under-estimated his raw ability.
He passed Whincup on lap 26 of 39, finishing sixth for the race. Whincup ended 13th, glad to have escaped any carnage on what was an atrocious day to be racing cars at more than 250km/h.
But Lowndes warned his qualifying performance today could not be repeated if he is to continue challenging Whincup for the title.
"We couldn't have got it any more wrong in qualifying," he said. "I'm quite happy about the race result but I'm not happy about the qualifying result. I am not going to win a Championship if I keep doing what I did today. We learned a lot today.
"The race itself was pretty good. We stayed out of trouble was the hardest thing and staying on the track was the next hardest thing.
"I had it in my mind that we will have a bit of fun and see where we end up because we had nothing to lose. I didn't want to beach it or put it into the wall but technically there was nothing to be lost. "In the end I think it was the right attitude to have."
Whincup was not fussed about the result knowing he still has a strong points lead in the Championship (158) and a solid advantage.
"I'm not angry at all, I scared myself quite heavily out there," Whincup said. "I'm quite happy to be back here to be honest. I didn't back off but once it really pelted down my tyres weren't quite there. It was absolutely lethal.
"I am just happy the car is straight. I'm not disappointed with the Championship picture or the race today, I am just happy to be here at this point.
"It was quite scary out there. To paint a picture is almost impossible. I couldn't see a thing. Generally you can see the walls on either side but even they were covered in spray. It's down to the last race at Sydney which I always knew it would be."
The results have closed the championship gap between Whincup and Lowndes to 158 points, with three races remaining and 450 points still up for grabs.
Will Davison finished fourth ahead of van Gisbergen, while Mark Winterbottom (seventh), Garth Tander, Coulthard and Steve Owen rounded out the top 10.
In separate incidents, Greg Murphy and Jason Bargwanna both crashed hard into the tyre wall at the Esses at end of the back straight and did not finish. Tony D'Alberto also registered a DNF due to a bent steering arm on his Wilson Security Falcon.
A longer 200km race follows tomorrow afternoon after a fresh qualifying session in the morning.

- APNZ