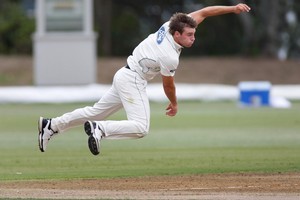 On the face of it, New Zealand cricket coach John Wright is a conservative fellow.
A former opening batsman of rare grit who would rather take a peppering on the body from Dennis Lillee than give his wicket away; a selector who has given every indication New Zealand will play a spinner and three right-arm pace bowlers - cricket's answer to cooking's meat and three veg - in the opening test against Australia in Brisbane starting Thursday week.
Sure, that is the tried and true approach but New Zealand have not beaten Australia since 1993 and have only won once in eight attempts at the Gabba during the glorious summer of 1985-86.
Is it too much to ask for the more raffish Wright to emerge when he closes his hotel room door in the lead-up to naming New Zealand's XI for arguably the most anticipated series in test cricket for Kiwi fans?
It would be a bold move - and a break from tradition - but Wright could list the names D.
Bracewell, T. Southee, T. Boult and C. Martin on his team sheet from positions eight to 11.
Unlike one-day teams, it is rare for a test line-up to tweak its balance with four pace bowlers plus a spinner in Daniel Vettori. However, changing the usual expectations in this series (i.e. Australia winning) requires something special. Nothing ventured, nothing gained.
Trent Boult has been picked in the squad, he's in fine form after taking 11 wickets at 13.09 in the Plunket Shield and he's a left-arm variation to the attack capable of getting the ball through at around 140km/h. Surely he's got to be used as more than just a net bowler to mimic what the top order might face from Mitchell Johnson at practice?
Add to that the experience of Chris Martin, the toil of Doug Bracewell and the venom of Tim Southee and it could potentially threaten the vulnerable Australian batting line-up.
Granted, it's not Andy Roberts, Michael Holding, Colin Croft and Joel Garner in their West Indies pomp but there is hope if December 1 dawns humid in Brisbane, Ross Taylor wins the toss and the New Zealanders bowl in partnerships. The prospect of the ball being pitched up, swinging late and edges being snaffled by a hungry slip cordon must have run through Wright's ambitious mind.
Taking such a bowling risk by stacking the attack leaves the batting vulnerable, but compromise is inevitable. Daniel Vettori's qualities with the willow come into their own in addition to his overs of left-arm orthodox spin.
The form of Martin Guptill and Kane Williamson, who produced scores of 195 not out and 284 not out respectively in the last round of the Plunket Shield, must also be backed. One of Jesse Ryder, Dean Brownlie or Reece Young would have to be sacrificed.
The Young case is simple. Brendon McCullum takes the wicketkeeping gloves and the top seven reverts to McCullum, Guptill, Williamson, Taylor, Ryder, Brownlie and Vettori.
However, that would seem harsh on Young - and McCullum. Young has made few errors since assuming the gloves.
Brownlie might be a harsher call. After making 63 and taking a valuable wicket and catch against Zimbabwe, he backed up with 171 for Canterbury in first class cricket last week.
Ryder could be the prime candidate to run out drinks and chill a few towels in making way for Boult. He pulled a calf muscle in Zimbabwe and his form since has been scratchy.
Wright is left with a selection conundrum in his most significant test match - albeit only his fourth - since taking the coaching role. Win or draw and his cricketing wisdom will be further revered; lose and the public's expectations won't exactly be in ruins. The key is whether he opts for a more innovative approach.