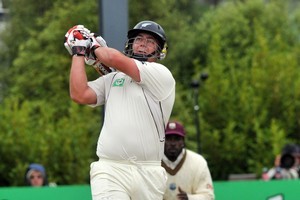 With an average of 44.85 from 16 tests, it is assumed a fit Jesse Ryder's inclusion in the New Zealand test team is a given.
However, circumstances like a loss of first-class form, limited bowling capability and the abolition of runners, mean the 27-year-old could be playing for his future in the upcoming test series against Australia.
Much of the focus - and wishful thinking - since Wednesday's team selection has been on whether New Zealand might debut left-arm pace bowler Trent Boult in a four-prong pace line-up (plus Daniel Vettori) to out-and-out attack Australia in the first test at the Gabba starting on December 1.
Questions about the batting line-up have been largely glanced away with the assertion "they pick themselves". In five of the cases in the top six that is true, but not the No 5 spot coveted by Ryder.
He has been picked on a "class is permanent" mandate. Coach John Wright will certainly be hoping his current form is temporary. Ryder's last five innings in any format have seen him score 128 runs at 25.6.
His two first-class efforts have been a third-ball duck and 19 in Wellington's innings and 230-run defeat to Northern Districts as he rehabilitates from a calf injury suffered in Zimbabwe.
Similarly, Ryder's last five tests since the Indian series just over a year ago have him averaging 34.78 from nine innings - including his 103 in Ahmedabad. His most recent four test innings against Pakistan in January brought an aggregate of 39 runs including two ducks.
On his day, Ryder is one of the finest New Zealand batsmen to watch in the modern era, but those days have become less frequent of late. Australia presents the chance to re-establish his credentials. Ryder will have a point to prove, too, especially seeing he has scored just 70 runs in four previous innings against Australia in Brisbane and Adelaide in 2008.
Ryder's value to the team has been reduced elsewhere, too. His latest calf injury occurred five balls into an over during the lead-in match to the Zimbabwe test. Wright has ruled him out of bowling duties for now. That is debilitating but New Zealand still get value having a fit Ryder marauding in the field, especially at gully where his hand-eye co-ordination often helps secure sharp chances.
Ryder also needs to apply himself to his fitness; something subject to some scorn in the past. The International Cricket Council's decision to scrap the concept of runners means Ryder's ability to concentrate and endure long sessions with the bat will be scrutinised as much as his stroke-making skill.
The ICC agreed the runner law had become farcical over time, given bowlers had no similar safety net. Playing in the heat and humidity of Brisbane means Ryder will require not only courage but perhaps an extra shake of salt on his poached eggs at breakfast to reduce the chances of cramp.
Ryder tended to rely on runners sometimes, like during his one-day century against Pakistan last summer, so it is an area he needs to adapt.
As for now Wright has given Ryder a glowing assessment describing him during the week as "a special cricketer". He is, but it is imperative he now repays his coach and team mates with a swag of Gabba runs.