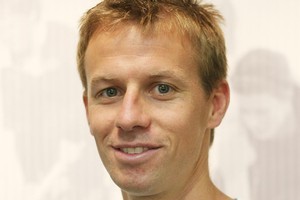 New Black Sticks skipper Dean Couzins concedes that the recent captaincy drama could derail the team ahead of the Champions Trophy - but remains hopeful it won't.
After being captain since 2008, Phil Burrows was surprisingly axed by coach Shane McLeod just over a week ago.
Since then, an emotional Burrows has spoken of his disappointment and voiced fears that it could destablise the squad with the Auckland tournament just around the corner.
"I agree with Phil that it could," says Couzins, "but I don't think it will. It's certainly not perfect timing but things in life rarely are.
"It's definitely not easy and I don't think it was ever going to be easy for any of the parties involved but it is up to me, Shane and even Phil to make sure it doesn't affect the team."
Couzins admits it was a "bit of a shock" when McLeod told him of his plans to switch the captain's armband.
"I didn't have that in my mind at all," says Couzins, "and my initial reaction was mixed. It wasn't something that sat comfortably with me at all but also there was some excitement. It will take time; I know Phil is still disappointed and there will be a feeling out period."
The two men have formed a close bond. They have played more than 200 tests together and shared a flat when playing club hockey in the Netherlands. They attended each other's weddings and regularly catch up for barbecues. Despite the recent upheavals, the pair still caught up for their regular weekly lunch on Thursday.
"I should have been paying," laughs Couzins, "but I think we went Dutch - too much time in Holland. But seriously - Phil has been great. He has been superb towards me. As captain, he did nothing wrong in my eyes, so I know it has been tough to take."
It is certainly a brave call by McLeod. Only time will tell if it was the correct one.
"Phil was a great captain," says Couzins, "and certainly Shane never complained about him. I guess he just thought my personality and skill set suited where he wanted to go towards."
Couzins made his debut in 2001 and has been an ever present since. He was player of the tournament during the Olympic qualifying tournament in 2008 at North Harbour, when New Zealand managed a unforgettable last gasp win over Argentina to book their passage for Beijing.
"Dean has been an emerging leader for a long time," says McLeod. "He has got some special qualities that will bring the best out of the group."
Couzins will lead his country in the biggest games on home soil in recent memory and he says the pressure of being hosts is a positive.
"We know there will be great expectations," says Couzins, "but that is good; that is what can bring out the best in people."
The Champions Trophy runs from December 3 to 11 at North Harbour Hockey Centre.