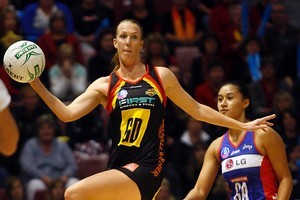 They are far from netball experts but key figures from the Warriors, Breakers and New Zealand Hockey have been called on in a bid to solve one of the sport's most enduring puzzles.
Netball New Zealand brought in the outside expertise to share their secrets of success on Australian soil, a hurdle that has proved almost insurmountable for our ANZ Championship teams. The conundrum was a key focus of a recent three-day conference, attended by all ANZ Championship coaches.
Long-time Breakers captain Paul Henare, Warriors strength and conditioning guru Craig Walker and women's Black Sticks coach Mark Hager were among those who ran workshops at the conference in Wellington.
A closer examination of the angst in Australia makes staggering reading. Across the first three seasons (2008-10) of the competition, the five New Zealand sides managed one victory in Australia between them. In contrast, over the same period, the Australian sides posted 20 wins on this side of the ditch. The Mystics broke their duck this year (with wins in Perth and Sydney) but the Steel, Tactix and Pulse are still waiting for their first win there after four seasons.
The Warriors faced similar issues in their early years; it was not until 2001-03 that the team achieved regular success in Australia. The Breakers overcame their hoodoo in recent years and produced some clutch performances across the Tasman in their championship-winning season this year.
An anomaly of the competition has been that New Zealand sides (the Magic in 2008 and Steel in 2009 and 2010) have made the playoffs without notching a single win in Australia, as they play Australian sides only once but local counterparts twice.
"We all know it has been a problem and sometimes it is good to work together on these things," says Tactix assistant coach Julie Seymour. "A lot of their emphasis was around travel and recovery, looking at the best time to travel and how you go about recovery once you're there."
Seymour added that Henare and Walker also focused on the travel back home - an often underestimated point that can have a great impact on performance in the subsequent match - and all three emphasised the importance of player buy-in.
"It is great to have all these carefully constructed plans," says Seymour, "but players need to be willing to follow the guidelines, whether it is around hydration, nutrition or wearing 'skins'."
Hager emphasised the role of fitness, intensity and replicating match situations as closely as possible in practice. In training, the Black Sticks try to mirror the rolling subs that they will have in a game, so physically the players are used to the demands.
Southern Steel co-coach Natalie Avellino is better placed than most to quantify the struggles across the Tasman. The Australian played for the Sting in 2004, before returning home to represent the Diamonds in 2005-06.
"Craig and Paul emphasised that it has taken a while," says Avellino. "They have learned along the way and tweaked things. The Warriors almost always travel on afternoon flights to Australia, learning that it has helped them achieve peak performance."
Avellino says the scarcity of success can't just be put down to different umpiring interpretations, as many critics do: "They win over here, so why isn't it happening for New Zealand teams? You can't always blame the umpires. Over there, they allow tough one-on-one defence; maybe that constant intensity and niggle gets to our teams. Is it the way we train? Are our players fit enough? Can they last the full game?"
Avellino agrees that travel is a factor, though it should not be overplayed: "They travel just as much as us, especially to and from Perth, and still get reasonably good results. We need to get over it and look at changing the mindset. You are going over there just to play a game of netball."
The conference also invited a combined approach, as each franchise was charged with compiling and then presenting an analysis of an Australian side.
"Everybody notices different things, so it was a good idea," says Seymour, "and there has been a lot of player movement between teams over this off-season."
"The goal is the same for everyone," says Netball New Zealand high performance manager Tracey Fear. "We all want to beat the Australians more regularly so it is about maximising the chances for our teams."
Meanwhile, Seymour heads off to England today, as assistant coach to Wai Taumaunu with the Ferns looking to defend their Fastnet crown. It will be a homecoming of sorts for Seymour, who was born in England and lived there until she was four; the tournament will be played just down the road from Wigan, where she spent her formative years.
"I've still got plenty of relatives there," says Seymour. "Hopefully I will have a chance to pop over for a cup of tea."