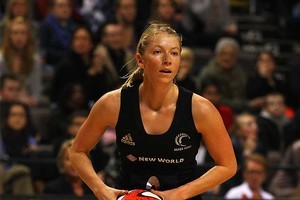 Having to rule herself out of Silver Ferns contention right when a window of opportunity was opening in the midcourt counts as one of the biggest disappointments in the fledgling career of Camilla Lees.
Fortunately there's nothing like the stress of crucial exams to help forget that disappointment.
Lees had no time to dwell on missing out on the Ferns' tests against England and Australia last month, she was too busy buried under a mountain of formidably sized textbooks, preparing for her all-important fifth-year medical exams.
Last month's series presented the first real opportunity for the three-test Silver Fern to cement a place in the New Zealand midcourt. But with that chance coming at one of the most crucial times in her studies, Lees had to make the tough decision to rule herself unavailable for selection.
Although she harbours lofty netballing ambitions, Lees has always held the philosophy that she does not want to sacrifice her medical career to get there, so exams had to take precedence.
"I kind of had to make the decision that this year my studies had to take priority because the fifth year is a crucial year and these were the last big set of exams we have for a while,"said Lees.
"It was really hard, but I know I have done the right thing."
Having ruled herself out of the Silver Ferns programme for much of the year, Lees was delighted to get the call-up for next week's World Fastnet Series in Liverpool.
Like many other shortened versions of sporting codes, Fastnet has been written off by traditionalists as a frivolous, even pointless pursuit. But try telling that to Lees - the Central Pulse midcourter can't wait to hit the court.
"Once I knew I had my exams during the Silver Ferns series, I thought 'what's my next focus?' and the Fastnet series worked out perfectly to fit in with everything, so I've been looking forward to it so much because I've been missing netball."
But, typically, Lees will be juggling netball with her medical studies while in Britain, with the tournament coinciding with a three-month study trip. She flew out last week and will be there until February to observe and learn from different practitioners around Wales and England as part of her year-six elective.
She will join her teammates, who fly out of Auckland tomorrow, in Liverpool on Monday to prepare for the three-day tournament.
The Ferns have won the world series for the past two years, and Lees was a member of the second-string side who were surprise winners of the crown last year.
This year new Ferns coach Waimarama Taumaunu has opted for a strong blend of youth and experience, with frontline players Irene van Dyk, Maria Tutaia and Anna Scarlett selected alongside newcomers Shannon Francois, Sulu Tone-Fitzpatrick and Jess Tuki.
Lees said she was excited to get the opportunity to slot into an experienced attack end.
"I always thought that the team would be another kind of development team, but it's nice to see there is a mixture of a few new young ones, with a few of the older girls," she said.
"It is such a great opportunity for us to play with some of those top-level players because you just learn so much more."
While the Wellington-based student has not played netball since the end of the ANZ Championships in May, she is confident it will not be long before she is back up to speed.
Lees has been training regularly with Pulse trainer Stephen Hotter, who has been helping the slightly built player work on her strength - an area Netball NZ has identified as one she needs to develop.
Lees has already noticed a huge improvement in her balance and strength.
"We get tested quite regularly and my results have been improving so hopefully I'll notice the difference when I get out on court."
The Fastnet Series gets underway early next Saturday morning (NZT) with the finals on Monday morning.