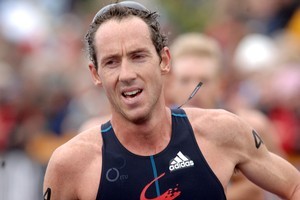 Bevan Docherty is operating on the assumption he will be competing in London and going for a full set of Olympic medals.
It's a big presumption to make considering he hasn't yet qualified automatically and might have to rely on being a selector's choice but Docherty knows better than most what it takes to win an Olympic medal.
It's not an ideal scenario for the 34-year-old who won silver in Athens and bronze in Beijing. He would have preferred to have already nailed down a spot by now - it's what he did in his 2004 and 2008 campaigns - and would also preferred the selectors to show their hand earlier than April 2012.
But he failed to gain an automatic spot by finishing in the top 10 in London in August and also finished out of the top eight in Beijing. He has one final opportunity to finish in the top eight in Sydney in April, the last automatic entry race, but might not be confident of success then given he will be in the middle of a heavy training and racing load.
"It is very frustrating [not to have qualified already]," Docherty said today ahead of Sunday's ITU World Cup race in Auckland's CBD. "In the past, one key and successful thing about my Olympic campaigns was qualifying early. It meant I could direct everything into a good preparation and good Olympic campaign.
"The unfortunate thing going into this is our final selection race is in April in Sydney so it's going to be one of those all-or-nothing campaigns. I'm not going to sacrifice anything for that selection race. I am just going to hope my results in the past have been enough.
"The next four months ahead are going to be some serious, intensive training. There is a good chance I could be in a big hole training because everything will be focused on the Games and I don't want to make any sacrifices. It's one of those lotteries but I'm there to win Olympic gold. I'm not just there to qualify. If I haven't done enough to qualify then, that's it."
It's inconceivable the selectors won't plump for him, especially as New Zealand's top men haven't been leading the pack this year. Docherty is ranked 16th and Ryan Sissons 18th but Kris Gemmell (59th) has had a difficult year because of injury. Clark Ellice is 53rd in the rankings and James Elvery 67th.
There's an expectation that, if New Zealand can qualify three spots for London - this is based on world rankings - then Docherty, Sissons and Gemmell would be given the nod but the selectors might opt for a strong swimmer and cyclist to work for Docherty in the same way Shane Reed did in Beijing.
This weekend's Auckland race has not attracted a particularly strong field but it's important for the Kiwis to accumulate ranking points to ensure New Zealand maintains their spot in the world's top-eight nations and three guaranteed starters for London.
They should do well on a course that would rank as one of the most difficult on the circuit because of the hilly terrain on the bike leg and it plays into Docherty's hands, even though he's not in top shape.
"A course like this is going to change the dynamic [of the race] so much," he said. "There are going to be smaller groups and the cycle is going to play a bigger part [than normal]. It's going to open up opprortunities for guys to attack on the bike.
"On flatter courses there seems to be that lack of enthusiam to make anything of the bike [and it comes down to a running race]. I personally think it makes it fairer and more of a triathlon course."
The course in London is flat and should play into the hands of the Brownlie brothers, Alistair and Jonathan, who have dominated world triathlon over the past two years. Docherty knows they will be favourites should he line up alongside them in London but Javier Gomez was heavily favoured to do well in Beijing and finished outside the medals.
"A lot can happen in a race that happens only once every four years," he said.
Docherty just has to make sure he gets there.

- APNZ