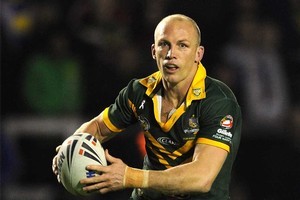 Andrews Johns is the most skilful, Brad Fittler the most complete, Sonny Bill Williams the most naturally gifted, Wally Lewis the toughest and Ruben Wiki the most intimidating - but Darren James Lockyer is the greatest player of all time.
Forget all that modern era tosh and the maxim that you can't compare generations. Of course you can. Don Bradman stands alone as the greatest cricketer of all time because his statistical achievements are so far beyond that of any rival. Lockyer fits into the same camp. His achievements - most tests, games as captain and tries for Australia; most State of Origin appearances; most NRL games - transcend generations. Yes, those statistical marks are down mainly to longevity, but that is entirely the point. Lockyer has been able to operate at the peak of his powers for longer than any other player in history. Others may have played more seasons, but not at the same level.
Most of Lockyer's marks will stand forever. The 355 NRL game record is the only one under imminent threat. Nathan Hindmarsh is the nearest active player with 307 games and the 32-year-old Eels warhorse will go close to breaking Lockyer's mark if he plays two more full seasons.
Lockyer's career, though, has been about so much more than statistics. He possesses - present tense applies because the file is not closed yet - all the requisite qualities of a great footy player. The searing pace of his younger days may have eased off a touch but his vision and precision have more than made up for that in his twilight years. On attack he remains a run/pass/kick threat. He has always been a solid defender despite a frame that is small by modern standards. He is as tough as they come and is a natural leader.
It's a testament to Lockyer's greatness that in his 17th season, and at the age of 34, he will likely win the Golden Boot. It would be his third, to go alongside the 2003 and 2006 editions. After the Broncos struggled badly last year and their talisman battled a succession of injuries, many assumed this year would be a bridge too far for the ageing maestro. But, as he has done his whole career, Lockyer vanquished those doubts in fine style. He led a Broncos resurgence that only ended after he was invalided out of the finals with a smashed cheekbone; he chalked up yet another Origin series victory; and tomorrow he'll likely ice the season by lifting yet another trophy as captain of his country in the Four Nations final in Leeds.
One memorable gaffe over the Bulldogs Coffs Harbour scandal aside, he has been as impressive off the field as on it.
While others struggle to carry the burden of celebrity, Lockyer has enough self-awareness to accept that his career is about more than just him. That was why he announced his pending retirement at the start of this season. His farewell tour wasn't about making himself feel good but about giving Broncos, Queensland and Australia fans a chance to say their goodbyes.
There's been plenty of talk about wrecking those farewells but so far only teammate Gerard Beale's knee has had any success in doing so. Even then, Lockyer played on with a depressed cheekbone and kicked a winning field goal with his last touch in an NRL game. The injury may have cut short his club career by a game or two, but it stretched his legend to scarcely believable proportions.
If Lockyer isn't the greatest of all time, then who is? For me, the only other name in the discussion is Ellery Hanley. In a career that spanned three decades, the Englishman played 479 club games, scoring 396 tries. He also scored 20 tries in 36 test matches. At his peak, Hanley existed on a different plane. He once scored 55 tries in a season. Hanley's achievements, though, came at a time when the game in England was semi-professional. Many of the opponents he made look stupid were part-timers.
Lockyer has spent his entire career in one of the most brutal, unforgiving competitions in the world. And where Lockyer has always been a uniting force, Hanley was often divisive. Lockyer has always made his teams better. Not so Hanley.
It's a close call, but Lockyer truly is the greatest.
Darren Lockyer
Born: March 24, 1977
Career points: 1191 - 122 tries, 341 goals and 21 field goals
Most test appearances for Australia
Darren Lockyer 58
Mal Meninga 46
Graeme Langlands 45
Most games as Australian captain
Darren Lockyer 37
Clive Churchill 27
Brad Fittler 25
Most test tries for Australia
Darren Lockyer 34
Ken Irvine 33
Reg Gasnier 28
Most State of Origin appearances
Darren Lockyer 36
Allan Langer 33
Mal Meninga 32
Most first-grade club appearances
Darren Lockyer 355
Steve Menzies 349
Terry Lamb 349
Source: League Information Services.