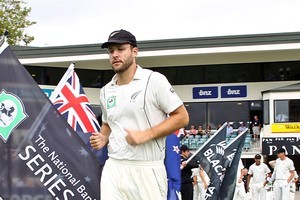 It might have seemed strange to many to see Ross Taylor stride to the middle for the coin toss in the one-off test against Zimbabwe recently, but not to Daniel Vettori.
The 32-year-old was back in the hutch watching for the signs to see if he should don the whites and prepare for a day in the field or settle in for the morning as interested spectator.
It was the first occasion in the on-going career of Daniel Vettori the test cricketer rather than the more onerous one of Daniel Vettori the captain, selector, kit man, bus driver and national saviour. It was a new era and one the 32-year-old welcomed.
"I really enjoyed it, actually,'' Vettori said of the experience of merely playing Zimbabwe, when he took eight wickets and scored 71 runs in a man-of-the-match performance.
His body language supported this. He was never particularly demonstrative as captain, certainly not in the Graeme Smith league of finger pointing and arm waving, but he appeared relaxed. Vettori has carried a fair bit of extra weight in recent years and it's not just the bushy beard around his jaw.
He didn't have to worry about declarations, bowling changes, field placements and extra net sessions. And he certainly didn't have to bother himself over the off-season in the makeup of New Zealand's ever-changing coaching and support staff.
"Not being involved in all that, I thoroughly enjoyed it and it's nice to just be with the family and have the phone off the hook a little bit more than normal,'' he says. "That's continued on to playing and just being able to concentrate on my own game. I still hope I'm helpful to ross and some of the younger guys in the team and able to pass on some knowledge, but it's not sitting up all night or during the day thinking about other players and what you need to do for them and how to improve the team.''
Vettori has some significant goals he still wants to achieve, not least of all surpassing Sir Richard Hadlee's 431 test wickets. Vettori is presently on 353 wickets and, with 15 tests in the next 15 months, has a good chance to improve his tally.
It's a heavier diet of test cricket than normal and with tours of Australia, West Indies, India, Sri Lanka and South Africa as well as the home series against Zimbabwe, South Africa and England he has a good chance of closing in on Hadlee. He averages 3.3 wickets a test and, if he can play all 15 tests, could expect to nudge over 400 wickets by the end.
It might seem a little selfish to target individual goals but cricket is a game where individual success leads to team success and Taylor knows he can rely on his senior spinner.
He can also rely on Vettori for advice but Vettori appears to want to give Taylor space to find his own style as captain.
"I talked to him maybe two or three times [about tactics] during the test match,'' he says. "I think Ross has a really good grasp of the game and also a good grasp of my bowling, which is the most integral part of my relationship with him on the field.
"He did a lot of things I wouldn't do and they worked out really well for the team [like bringing on Martin Guptill to dismiss Tino Mawoyo on the fifth day]. The reason we won that test match was down to some of this moves. I can sit back and think it's all in good hands and not worry about it at all. I was able to be just a player. I think I will play a lot longer than being a captain so it was pretty easy to sit back.''
His plan remains the same. He might have given away one-day and Twenty20 internationals for the foreseeable future but hopes to play in the 2015 World Cup being hosted by Australia and New Zealand.
This week he's playing his first Plunket Shield match for Northern Districts in five years and he will also play for the Knights in all of their Twenty20 fixtures (he's not playing one-dayers) as well as a handful of guest appearances for Queensland in Australia's Big Bash Twenty20 competition.
He still gets his "fix'' captaining his IPL side but it's not the same.
And it's just the way Vettori wants it.

- APNZ