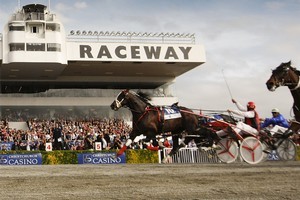 They are called easybets for a reason but for one elderly Auckland punter it was also a good investment after he won $83,333,30 on a $10 ticket.
The 77-year-old, who did not want to be named, is a regular patron at a Mt Wellington TAB but doesn't normally extend himself beyond $1 each way or a $1 box trifecta. Occasionally he splashes out on a $10 easybet and, for New Zealand Cup day last Tuesday, he was glad he did.
He has a lot to thank Kiwi harness driver Dexter Dunn for. Dunn drove the winners in the first two legs - Texican (at $5.20) and Dream Out Loud (a roughie at $14 for the win).
The third leg saw Mah Sish come home first at $7.20, with Terror to Love winning leg four, the New Zealand Trotting Cup, at $5.
Longshot Global Invasion ($11.90) came home in leg five ahead of red-hot favourite Burano, driven by Dunn, and Dunn drove Magical Mel ($4.50) home by a whisker to claim the profitable return.
"It was one of those fluky days,'' the punter said. "I am a regular patron - it's about the only vice I have - and it was the last bet of the day.
"As the day progressed and more winners come my way, I couldn't believe it. When the last one sneaked in by a whisker, I didn't realise the amount was as much as it was.''
The man plans to travel to the US with his wife, who has inoperable breast cancer, and son for a holiday and, with a "heap'' of grandchildren, doesn't think the money will go very far. He's already tipped workers at his local TAB.
"I know I should give some to Christchurch [for the earthquake relief fund] but I have done that one way or another with various things,'' he said.
The man was once part of a syndicate who owned a number of horses including Wellington Guineas winner Red Baron and he was a member of a couple of racing clubs around the country but his interest these days is mostly at the tote.
He has been a punter for most of his life and lays bets on most races from Wednesday to Sunday. He came close to pocketing a pick six when he selected his own horses for an Ellerslie race meet but he placed third in the final race. He's claimed a handful of windfalls around $10,000 in his time but nothing compared to his recent windfall.
Nothing much will change, however, and he's bound to be down at the TAB again today in the hope of another fluky day.
- APNZ