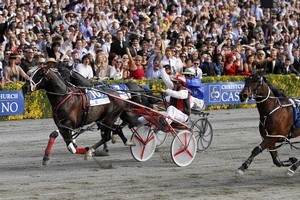 There is a sweet irony in the Kiwi moaning over the treatment of Terror To Love as he heads to next week's Miracle Mile in Sydney.
Last week's New Zealand Trotting Cup winner hasn't been awarded an automatic invitation into the A$500,000 sprint, something which used to be all but guaranteed for a Cup winner.
That has, of course, brought about the usual claims of a snub for the Kiwi pacer, and faux outrage from those concerned that if Terror To Love was an Aussie he would be first on the list.
The usual garbage dished up in these circumstances of perceived transtasman injustices.
The issue has come about because New South Wales Harness Racing Club officials have decided after years of rushing to hand out Miracle Mile invitations to horses who simply didn't perform, they would streamline the process.
That meant invitations for two horses of their choosing while any other horse who wanted an invitation had to race in Sydney in the three weeks leading up to the Mile.
That is smart on two levels. Firstly, it means the NSWHRC gets some decent lead-up races to the Mile and the financial benefits that entails.
Secondly, it somewhat safeguards against visiting horses turning up for the Mile and embarrassing themselves, only for their trainers to say they didn't handle the trip, the heat, the flies, the track, didn't like the mobile or were not ready for a 1:50 mile.
The two discretionary invitations for the Mile went to Australasian mile record-holder and defending champion Smoken Up and Auckland Cup and soon-to-be Interdominion champion I'm Themightyquinn. Impossible to argue with that as their records, and appeal to punters in Australia, are vastly superior to Terror To Love's.
But what is being overlooked by anybody crying foul for poor Terror To Love and the Kiwi pacers is that the two lead-up races so far for the Mile have both been won by New Zealand pacers, who are now in the Miracle Mile field.
Raglan, who probably shouldn't be in a Miracle Mile, won the Newcastle Mile and is in for Canterbury trainers Tim and Anthony Butt.
And Franco Jamar won last Saturday's prelude at Menangle and is also in the Mile for his Kiwi owners, who include former broadcaster Sheldon Murtha, even though he is trained at present by Luke McCarthy.
So rather than being poorly treated under the new invitation policy, New Zealand has two confirmed Miracle Mile starters.
And while nobody will admit to it, Terror To Love was as good as invited last weekend.
His connections would have been told as long as you turn up in Sydney this week and don't disgrace yourself in a lead-up race you will be starting in the Miracle Mile.
Simple as that. Not official, but definitely good enough for Terror To Love to be on a plane to Sydney tomorrow.
NSWHRC bosses couldn't say that officially because then they had gone against their own policy.
And while it may need tinkering you have to admit their new policy has worked on one front - Terror To Love will race at Menangle this Saturday, whereas under the old policy he would not have.
That may be a blessing in disguise for the 4-year-old as Menangle is the closest style of racing this part of the world has ever seen to North American mile racing, so therefore vastly different from the standing start racing Terror To Love has been competing in all spring.
Terror To Love's having a warm-up race in Sydney will help him and driver Jim Curtin and somewhat safeguard punters because he will have exposed Sydney form before the Mile.
And just in case there is still anybody out there thinking Terror To Love was snubbed because he was a New Zealand pacer, consider Victorian pacer Bitofbliss.
He is the new rave horse in his home state but his connections were also told they had to compete in Sydney to get a Miracle Mile invitation.
They chose not to and he will now miss the great race.
That is their choice and suggests they were not as confident about their Miracle Mile chances as the Terror To Love camp were.
So maybe punters dodged a bullet on a horse who could have turned up Mile night, raced lengths below its best under foreign conditions and then skulked off home.
Just like so many other Miracle Mile invitees have in the past decade,