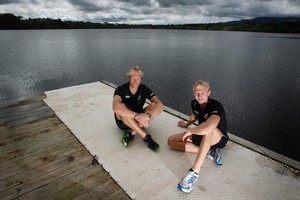 Buoyed by being named world rowing crew of the year, it's full steam ahead to the London Olympics for Eric Murray and Hamish Bond.
The three-time world champion coxless pair were awarded the title at the world rowing coaches conference in Italy early today.
The pair were chuffed at the honour, aware hardly any previous winners were not Olympic champions and have vowed to do something about that in London at the start of August.
They beat off the German world champion eight and Danish world lightweight single sculling champion Henrik Stephansen.
"We've had a great run as a pair and to be acknowledged for that is really special," Murray said.
He admitted some surprise, suspecting the German crew would get the gong but "I'm just happy we had more boxes ticked than the others".
Murray and Bond, unbeaten since linking up in 2009 - having been part of the 2007 world champion coxless four, who in 2008 just missed the Olympic final in Beijing - will arrive in London firm favourites.
And having tinkered with their approaches in the last three years they appear to have settled on the template they hope will take them to the top of the Olympic podium.
They had worked on a policy of racing their rivals and keeping tabs on what they were about. Now it's about simply doing their thing and if their rivals are good enough to beat them on those terms, so be it.
"This year we went 'right, let's just go out and beat them, try to win from the first stroke and don't worry about anyone else. If people can keep up with us good luck to them'." Murray said.
"We're not looking for a magic recipe. We think we've found something that's really good so we're not going to change it too much.
"We know what we're doing; we've just got to make things a little better and make sure it's executed properly."
No one has kept up, not even their British rivals, Peter Reed and Andrew Triggs Hodge, who have tried and failed to get to the line 14 times against Murray and Bond. They remain the New Zealanders' strongest rivals and Murray admitted they use those two as a visualisation aid in training.
"We train every day as though they are in the pair and we are in second place, so we're always looking for improvement," Murray said.
He has heard the whispers that the British officials might move the pair out of that boat for the Games, effectively conceding they can't catch the New Zealanders, despite having secured Games qualification in that discipline for Britain.
"They are the top two guys in Britain, the strongest, the best in all testing, the fastest in the pair. Put them in the four and it goes well. But the fact is we're the better pair at the moment.
"All they care about is winning a gold medal so for them it will be in whatever boat they think they're able to get gold. If they perceive that to be the pair, good luck to them."
Murray and Bond are back in full training after a short break following the world championships in Bled, Slovenia. They are confident but careful to avoid getting ahead of themselves of achieving total domination for three years.
"We know what's making us work well. We can't start looking for something else at this stage, and if it's not broken don't fix it. It's really simple. We are the only ones who can create our own destiny."