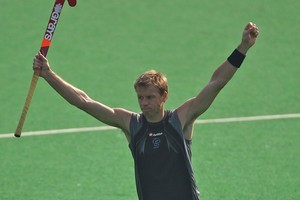 A hugely experienced Black Sticks squad has been named to compete at the Owen G Glenn FIH Champions Trophy at North Harbour this December - with the team having 2,125 caps between them.
Phil Burrows (262), Ryan Archibald (251), Blair Hopping (240) and Dean Couzins (237) will bring the most experience to the team when they compete against the best teams in the world, in what will be the last major event prior to the 2012 London Olympics.
Black Sticks Men's coach Shane McLeod says that although this tournament will be a real challenge, the team is confident leading into it and recent results, including a win and a draw with world number one Australia at the Oceania Cup in Hobart last month, have helped with preparations.
"A number of the younger athletes really stepped up to the challenge at Oceania Cup and had an impact on the games which was very pleasing," says McLeod.
"We are currently ranked seventh and our aim at the moment is to be consistently ranked within the top six teams. Having the support of a local crowd and the benefit of playing on our home pitch will really help - that is something we have never had at this level," says McLeod.
McLeod has selected Shay Neal (Northland) as a sixth striker in the team. "Shay has really improved and has had some great performances lately. Having a sixth striker in the team will help - we are always looking for players that will add to our attacking strength," says McLeod.
After three years of Phil Burrows leading the team, McLeod has selected Dean Couzins as captain for this tournament and also in the build up to the 2012 London Olympics.
"I believe that Dean will bring a lot to the team as captain - he has co-vice captained the team for quite some time and stepped up to captain the team on occasions in Phil's absence. I know that Dean will help us continue to move forward as a group. He has a strong connection with all the players in the group and always puts the team first," says McLeod.
"Phil has offered a huge amount to the team as captain over the last three years and I'm hugely grateful for that. I see him being a really critical player in our success towards London and he will continue to be a valuable senior member of our group," says McLeod.
McLeod says that there is a need to really foster and develop the culture of the team if they are to perform with excellence at the Olympics next year, and that Couzins is the best person for the job.
Players are currently training within their region and will centralise in Auckland for two weeks prior to the tournament (from the 21 November), with turf trainings at North Harbour and strength and conditioning sessions at the Millennium Institute of Sport and Health.
Strikers Nick Wilson, Simon Child as well as midfielder Steve Edwards are all returning from Europe to compete. The Black Sticks will take on Germany, Korea and Holland in their pool games.
The Champions Trophy is from 3-11 December at North Harbour Hockey Stadium in Albany.
Squad:
Andy Hayward
Simon Child
Blair Hopping
Dean Couzins (C)
Blair Hilton
Bradley Shaw
Stephen Graham
Kyle Pontifex
Phillip Burrows
Blair Tarrant
Shea McAleese (VC)
Matt L'Huillier
Stephen Jenness
Shay Neal
Hugo Inglis
Ryan Archibald
Steve Edwards
Nick Wilson
- HERALD ONLINE