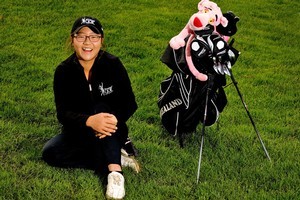 New Zealand's Lydia Ko has already been an over-achiever in her short career and she has added to that by winning the Mark H McCormack Medal as the world's top-ranked amateur women's golfer.
The 14-year-old was awarded the medal after topping the newly-created women's world amateur golf ranking (WAGR) after the US Women's Amateur Championship, the last elite women's WAGR event of the amateur season.
The rankings were introduced by the R&A and USGA in February and it's the first time the women's game has been able to compare amateurs in elite competition. It currently includes a calendar of 1750 counting events with around 3500 ranked players representing 82 countries.
Fellow Kiwi Danny Lee won the men's equivalent in 2008, when he topped the men's ranking.
"My goal when I started playing golf was to become the best in the world, and this is a tick in the box for sure,'' Ko said. "It is great to follow fellow Kiwi Danny Lee's footsteps. This is a great reward for all the countless hours I and my team put in, and to become the first female, even better.
It's been a huge year for me, one of many firsts, and this is just the cherry on the top.''
Ko was born in South Korea but moved to New Zealand with her family when she was six. She quickly made a name for herself in golf and as a 12-year-old finished as the leading amateur at the 2010 New Zealand Women's Open and seventh overall. Not only that, her performance meant she became the youngest woman to make the cut in a Ladies European Tour event.
She narrowly missed becoming the youngest player to win a professional event after finishing second at the 2011 New South Wales Open. She had led heading into the final hole but missed a three-foot putt to lose by one stroke. Had she won, she would have broken the record for the youngest person to win a professional event by three years.
She achieved another record, however, when she became the first player to win both the Australian and New Zealand Ladies' Stroke Play championships in the same year in 2011 - she beat fellow Kiwi and great rival Celia Cho in both finals - won this year's New Zealand Match Play Championships and also finished fourth at the 2011 New Zealand Women's Open.
By this time, Ko had risen to No 1 in the world rankings and topped it off by being a co-medallist at the US Women's Amateur Championships before being knocked out in the second round of match play.
- APNZ