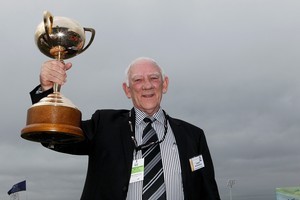 Terry McDonald waited all his life for yesterday and when it came his mind was somewhere else.
Christchurch-based McDonald has raced horses for 50 years and has craved one race more than any other: the New Zealand Trotting Cup.
That dream came true when Terror To Love unleashed an unbelievable sprint from near last to down Aussie hardman Smoken Up in the shadows of the Addington post yesterday, overcoming the sort of run Cup winners don't usually have to endure.
McDonald was choked with emotion after the race, but it had little to do with the Cup.
He shared the win with his children, who had spent the day fearing for the life of their mother, McDonald's ex-wife Pat.
"Pat has been on a life-support system in hospital," said McDonald, nearly in tears. "We are divorced but we are still close and of course she is the mother of our kids and they have been going through a really tough time.
"It sounds like she perked up a little bit for a while this afternoon so there was at least some respite for the kids but the bottom line is our thoughts are with her and that is far more important than racing."
Such sentiments are typical of McDonald, a man respected throughout the South Island for his business skills in the scrap metal trade, which might be one of the few industries to profit from the horrors which have hit Canterbury in the past 14 months.
"Terry is a man of principle, a man of his word. The sort of guy who does million-dollar deals with a handshake," said co-trainer Graham Court. "So to win this race for a man like him at such a tough time for his family is something special."
Special wins take a special horse and Terror To Love is just that, only the eighth 4-year-old to win our greatest harness race.
His rise this spring has been remarkable as he wasn't even our best 3-year-old pacer last season. But he has strengthened and grown and has the most potent of racing's weapons - blazing speed.
He needed it yesterday as he moved three wide to get handy in the middle stages but was pushed back to near last again starting the last 800m, a misfortune which should have ended his chances.
Yet he unleashed one of the great New Zealand Cup sprints to win going away and stamp himself as the new force in New Zealand pacing.
He will now head to Sydney to take on Australia's elite in the Miracle Mile in two weeks, catapulting Court and his son and training partner Paul into the big time.
But Terror To Love's career may be cut short by the bag of gold between his legs. Being a stallion, should Terror to Love keep winning races in the style he did yesterday McDonald will eventually come under pressure to retire him to stud.
There was little in the way of excuses for the beaten brigade, with Smoken Up having every chance after rolling to the lead after just 800m without any serious hindrance.