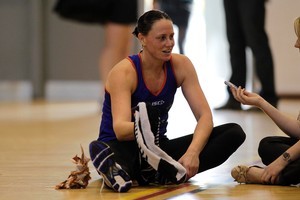 After hanging up her playing bib at the end of the ANZ Championship season, former Australian international Megan Dehn will next year join the Northern Mystics' coaching staff.
Mystics coach Debbie Fuller has appointed Dehn as her technical adviser, while Wellington's Gail Parata will come on board as assistant coach.
Fuller last month revealed she was looking across the Tasman for coaching expertise to fill a "knowledge deficit" on the Australian game.
Despite Australia's dominance of the transtasman league, New Zealand franchises have so far resisted calling in expertise from across the Ditch. But Fuller believes if the Mystics are to improve on their second-place finish this year, they need a better understanding of the Australian game.
The appointment of Dehn continues her long-standing association with New Zealand netball after playing three seasons with the Southern Steel before joining the Mystics last season.
Despite Dehn having no previous top-level coaching experience, Fuller believes her knowledge of the Australian set-up will prove valuable.
"Having that added insight on the Australian personnel and teams and approaches they take will be really helpful. And also because she has been through the system herself, so she knows their skill progression and how everything operates," said Fuller.
Dehn will be on the Mystics bench for all the Australian games, and join the team in Auckland in regular intervals. But the main day-to-day assistant role will be filled by the experienced Parata, a former Silver Ferns teammate of Fuller.
Parata, who has been assistant coach at the Central Pulse for the past three seasons is making the move North after being overlooked for the top job following Yvette McCausland-Durie's resignation.
Parata had been considered the frontrunner to take over, but the franchise instead lured discarded Steel coach Robyn Broughton to Wellington. Parata was again offered the assistant role at the Pulse, but turned the position down.
"I was obviously disappointed I didn't get the head coach role, but there's no bad feelings there at all," said Parata.
"The Mystics opportunity was just too good to turn down, really. I just thought it was a great opportunity to work in a new environment, with a new group of players and of course with Debbie." she said.
Parata said she was struck by the gulf in professionalism when dealing with the two franchises and the Mystics won out because they had their act together off the court.
The Pulse have struggled to get their back office in order throughout Parata's tenure at the franchise, with the Wellington-based side going through five chief executives in four years.
They have just appointed their sixth - former marketing manager with the Waikato Rugby Union Kyla Lange.