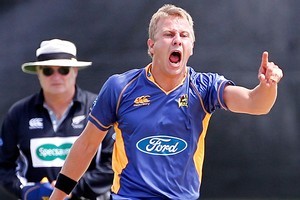 Otago's Neil Wagner says he is firmly focused on this summer, despite the possibility of playing out a "fairy-tale" in South Africa, the country of his birth, next year.
Left-arm seamer Wagner becomes eligible to represent New Zealand on April 2, meaning he is one strong summer away from a promotion to the national side.
If that elevation does occur, Wagner would have the chance to tour his home country next summer, giving him the opportunity to play in front of friends and family while wearing the colours of his adopted home.
"I think to play against South Africa for New Zealand would just be amazing," he said. "Also, playing in front of my family again would be nice. I don't think they've seen me play in quite a long time."
But Wagner was cautious about looking too far ahead, considering he is facing what could be the most important summer of his cricketing life.
His eligibility arrives just four days after the domestic cricket season concludes, meaning Wagner will be facing national selectors' scrutiny in every match as he bids to become New Zealand's next top bowler.
"I try not to think about it too much. It is a goal but it's something that will take care of itself," he said. "If I do end up getting a chance I'll be very happy and very honoured. It's a major privilege to represent New Zealand."
With a dearth of fast bowling talent in this country, the 25-year-old has been on New Zealand Cricket's radar since he moved here in 2008. The anticipation only increased last season when Wagner set tongues wagging with a return of 51 wickets at an average of just 18.15 in the Plunket Shield, including a memorable five-wicket over against Wellington - the only first-class bowler in world cricket to accomplish such a feat.
Now a call from John Wright could be only a summer away, Wagner said he will do his utmost to match last year's achievements.
"It's tough to try and top that - I don't think five wickets in an over will happen again in my career. To take 50 wickets in a season, it was one of my goals last year and this year it's definitely something I'll go out and try to do again."
If he does approach those numbers then it's likely higher honours await. The Black Caps are touring the West Indies in June and, if a call-up arrives, Wagner said it would be a great way to kick-start his international career.
"It's something I really would want to be a part of. But I'm not thinking that far ahead. I'm just trying to focus on every game and take it in little baby steps.
"It would be a bit of a dream come true. Your dreams change quite a lot; 10 years ago I would've wanted to play for South Africa, but things change quite drastically, and now I want to play for New Zealand."
Before that, there's the small matter of being selected, something a successful season for Otago will aid.
"As a team, we've kind of underachieved a bit," Wagner said. "With a bit of confidence and a bit of experience in the belt from the past couple of seasons, I think this year might be the year where we can win a couple of trophies."
First up for the Volts is a trip to Rangiora to take on Canterbury, a match Wagner said could not come soon enough.
"I can't wait. The last month of pre-season has gone pretty quick, but I think all the boys are quite eager to get on the park and start the games and play a bit of cricket."
Draw for Plunket Shield first round, starting Monday, November 7:
Northern Knights v Auckland Aces - Cobham Oval, Whangarei
Central Stags v Wellington Firebirds - Nelson Park, Napier
Canterbury Wizards v Otago Volts - MainPower Oval, Rangiora
- APNZ