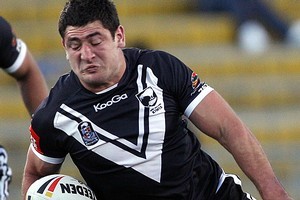 The man who broke Kiwi prop Sam McKendry's jaw said he wouldn't wish that on anyone, and all he can say is he's sorry.
New Zealand's big 36-0 win over Wales at Wembley Stadium this morning (Sunday morning NZ time) - which left Stephen Kearney's men needing to beat England on Friday to make the Four Nations final against Australia on November 19 - was soured by the loss of Penrith's McKendry for the rest of the tournament, after a massive head-on tackle by Welshman Jordan James.
McKendry will undergo surgery in England; Four Nations rules preclude coach Kearney from sending for reinforcements.
"All I remember is that he ran straight at me and I tried to put everything I could into the tackle," James, who was loudly encouraged by team-mates after the thunderous hit, told APNZ. "I certainly don't think I went high, there was no malice in it.
"Rugby league is a physical game and people get hurt. But we are playing Australia next week and I know how much I would hate to miss that game so I feel sorry for him."
Kiwis' halfback Kieran Foran was near the collision and said there was nothing untoward in Jordan's tackle. "The hit was fair enough," said Foran. "I can't recall any elbow coming into contact with the face.
"He was massive, that Welsh fella. He threw all his weight into it. Sam's a great up-and-coming prop and whenever he plays for the Kiwis he puts his heart and soul into it and we'll miss having him out on the field."
As his side prepares for a make-or-break encounter at Hull's KC Stadium, Kearney said the McKendry injury was a significant blow.
"It looks like there's been a displacement straight down the front of his jaw there," Kearney said of McKendry.
"We'll get all that confirmed. The doctors know best - that's what the diagnosis is.
"We've got some handy guys there - Russell Packer, who didn't play this week and we intentionally give Simon Mannering a break. I know he doesn't play front row but he can cover a position there where we can possibly move [Adam] Blair into the middle, which we did at stages [on Saturday] because of the injuries we sustained.
"I think we've got the position covered."
Another prop, Fuifui Moimoi, twisted his ankle and will be checked today.
The Kiwis led 26-0 at halftime on Saturday, with prop Sika Manu scoring an unlikely brace, but seemed to take their foot off the gas after the break - although winger Gerard Beale also completed a double.
"We saw enough there to build some momentum on for next week," said Kearney. Foran said: "That was my sixth game (for the Kiwis) and it was my first win. So it was a pretty special day for me."
Captain Benji Marshall added: "We've got a lot of improvement to do and that's not a bad thing because we've got to work hard again because the opposition keeps getting tougher.
"It's our grand final next week."
Wales' captain Lee Briers said New Zealand were "a bit ahead of the English" but any of the other three teams in the tournament were capable of winning. It was a costly outing for the the Antipodeans in London, with Australia fullback Billy Slater also out of the tournament with a fractured collarbone during his side's 36-20 win over England.
England coach Steve McNamara accused rival Tim Sheens of unfairly placing pressure on Kiwi referee Henry Perenara in the lead-up to the second game of the double header. But he also said Perenara had been wrong to disallow a Tom Briscoe try on a double-movement ruling and leave Tony Williams on the field after his hit on Ben Westwood.
New Zealand 36 (Sika Manu 2, Gerard Beale 2, Jason Nightingale, Kevin Locke, Nathan Fien, tries; Benji Marshall 4 goals) Wales 0HT: 26-0
- APNZ