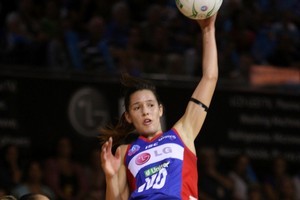 Having just dipped her toe into international netball, rookie Kayla Cullen is about to get her shot at filling the Silver Ferns' worrisome midcourt void.
That's one of the prospects in store as the Ferns prepare to defend their Fastnet World Series title in England later this month.
Cullen (19) has already made a huge impression on the netball landscape over the past 12 months, initially helping an inexperienced NZ line-up win the Fastnet event last November. Signed as a shooter, she then cemented a starting spot in the Northern Mystics defence during the 2011 ANZ Championship and was subsequently named Best Young Player for the transtasman competition.
Last month she made her test debut at wing defence against England and featured prominently off the bench again during the just-completed Constellation Cup series against Australia. So far, new Ferns coach Wai Taumaunu likes what she sees from her raw and rangy protege, so she's keen to lay down a new challenge by handing Cullen the centre bib.
"I'm not aware that she's played there before, but she's got all the attributes to be a good one,"says Taumaunu. "Besides, we've done pretty well moving players from wing defence to centre in the past," she winks.
Midcourt kingpin Laura Langman made her Silver Ferns debut as wing defence in 2005 before moving up court and she assumed the pivot spot when veteran Temepara George stepped aside after this year's world championships.
But Langman isn't on the Fastnet roster announced this week and her deputy, Liana Leota, is about to move to England with professional rugby-playing husband Johnny Leota.
"I think we were all aware, when Temepara retired, that we needed to work hard on developing depth in that area," confirms Taumaunu. "It's been fairly obvious for the past year now that there was a bit of gap in the absence of 'Bubs'."
With its six-minute quarters and two-point shots, Fastnet is netball's equivalent of T20 cricket or sevens rugby and offers Taumaunu a chance to tinker with her line-up without the pressure of a test environment. While New Zealand won the inaugural world series title two years ago and successfully defended it last year, they've done so by playing a fairly traditional style, shunning many of the rule variations designed to make it more spectator-friendly.
"We've played it how we would play a normal one-hour game and were criticised for that," chuckles Taumaunu. "People say we haven't entered into the festival spirit, we've taken it too seriously and played proper netball."
But this time, she intends using the rolling-substitutions rule at least - to give her midcourt options Leota, Cullen, Camilla Lees and Shannon Francois plenty of scope to show their wares.
Another positional experiment will see Jess Tuki, previously a shooter in the national squad, used on defence where she appeared for Waikato-Bay of Plenty Magic. You sense Taumaunu doesn't quite approve of this new, jumped-up version of the game she grew up playing. She's old school - like preferring test cricket to a dose of hit-and-giggle.
"I understand the rationale for it as an entertainment spectacle," she concedes. "But I'm not sure Fastnet is old enough for us to understand what it offers from a game development perspective. I think as long as you have Australia v New Zealand tests going down to the wire and needing overtime, the one-hour game can still be very exciting."
But Taumaunu hates losing and is keenly aware that her near full-strength squad, captained by star shooter Irene van Dyk and missing just four players from the Australian series, will be expected to repeat as champions.