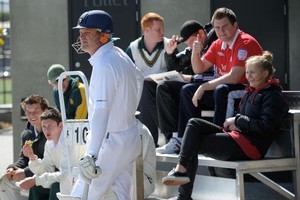 With the fall of the Cornwall reserve grade XI's first wicket at 75, 49-year-old Martin David Crowe strode on to the Papatoetoe Recreation Ground at 5.30pm to begin his quest to play first-class cricket after a 16-year absence.
It is an outlandish premise but one which has captivated cricket fans across the country and the world.
Dozens assembled for the occasion in the Papatoetoe clubrooms hoping to rekindle memories of arguably New Zealand's greatest batsman making test centuries as far afield as Lord's, the 'Gabba and Bourda. To get a chance to watch such skills again was to be experienced in person.
Crowe finished the day 15 not out as part of his team's 113 for one, a lead of four over Papatoetoe. However, he was disappointed with what unfolded.
It wasn't his batting. His perfect stance and MCC textbook stroke-making were still evident even if they seem retro in the modern game.
Such a technique comfortably accounted for the opposition attack, albeit with a couple of dropped catches; it was more the standard of the pitch and the excessive appealing.
"I have never experienced an hour's batting like that in my life; it's the slowest, deadest pitch I've played on. It's not what cricket's about as far as I'm concerned. That [block] needs to be dug up. It is shocking. It does nothing for any young kid playing. I hope that's an exception to the rule. They're better off not even cutting it. It didn't have a heartbeat for the poor bowlers.
"I don't mind it zipping around like when I played on doctored green tops for [Richard] Hadlee at Trent Bridge and Lancaster Park - but that's a great challenge when the ball's bouncing round your ankles. There's been slightly more action in Bulawayo.
"Then there's the behaviour - appealing for everything. It's worse than anything I've experienced in Asia. I told them I was disappointed. Carry on like that and you don't deserve decisions to go in your favour because you've got no respect for the game." Crowe put in a plea to be promoted to premier level as soon as possible to get a better standard of play and pitches: "It's up to the coach [Rex Smith]. He's decided not to play me so I'm going to bat as long as I can to get runs. I just feel I came back because I wanted the challenge of premier cricket. I got through things today and I'm not injured."
It was vintage Crowe as tension mounted initially ahead of the toss. He was mobbed by well-wishers as he headed out for a pitch inspection dressed in an immaculate long-sleeved cream sweater, flannels a tailor would be proud of and a Cornwall cap signifying his affiliation with that club since 1968.
A cardboard coffee cup warmed the skipper's hands as he allowed eager team-mates to remove the covers after a squall of westerly-driven rain delayed play for half an hour until 11.30am. The green baize-like strip glowing underneath left him in no doubt what to do if he won the toss. Unfortunately for the crowd that meant Cornwall fielded first when the coin fell in his favour.
Papatoetoe reserve grade were dismissed for 109, with Crowe setting attacking fields throughout. He stood at first slip, a position he had a mortgage on for the entire innings. Apart from the odd adjustment of what looked like a right knee support underneath the strides and a sometimes tentative running gait he looked in good shape. Papatoetoe had plenty of opportunities to score with a fairly open leg side in the early stanzas but Cornwall's bowling, notably through Oliver Pringle (three for 37) kept Crowe's aggressive fields relevant.
Cornwall batted not long after lunch. Again Crowe was blessed with an intuitive sense of PR as cameras were thrust in his direction, adding a surreal element to the reserve grade XI contest. Crowe donned his gear and a traditional bandana and warmed-up with a few practice shots. The cameras lapped it up as he showed the maker's name, a Gunn and Moore "Flare" to be specific. There must be a cheque in the mail for such golden publicity.
However, for most it was a chance to relive the past - injury and satisfaction permitting, it will continue over summer at a local ground near you.