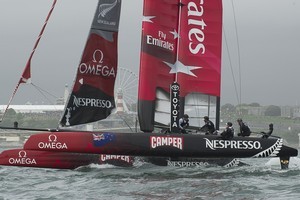 Emirates Team New Zealand hope to get a jump on their America's Cup opposition by forming an alliance with rivals Luna Rossa in which they will build a boat for the Italian team and share all of their design and testing information.
It's a groundbreaking move and one which Team New Zealand chief executive Grant Dalton hopes will allow his team to get an early advantage over Oracle Racing, the team which will defend the America's Cup in San Francisco in 2013. The partnership has been accepted by the Golden Gate Yacht Club ahead of the 34th America's Cup.
"From a cooperation point of view this is totally open book,'' Dalton said. "Luna Rossa will get the exact design of our boat one. We're building two boats for the next America's Cup and we will build that boat for them. We'll then share testing information on the water, we'll make alterations to the boats and basically we'll find out what works and what doesn't. It also allows us to get testing a little earlier than you would normally be able to under the rules.
The cooperation must finish under the protocol by the end of next year by which time we go our own separate ways.''
The next America's Cup will be sailed in 72-foot catamarans, a new class for the event which has been in existence since 1851.
The New Zealand-Italian alliance means the entire Luna Rossa team of more than 60 will move to Auckland, build a base, and test alongside Team New Zealand until 2013. The deal is certain to provide lucrative economic benefits to the New Zealand marine industry and Auckland as a whole.
The hulls for the Luna Rossa AC72 will be built in Italy but all other elements will be built in New Zealand.
"This deal is significant for Emirates Team New Zealand,'' Dalton said. "It makes us a stronger team. By joining with an established team like Luna Rossa and sharing design information and then us building their boats it basically gives us a better opportunity to beat Oracle, that's the boat we have to beat. We get their ideas, they certainly get ours, but we find out where they're at and in a new class like this really ... you can't at all guarantee that you're covering all the bases and this helps shut down the options that we might have missed.
"The New Zealand marine industry benefits hugely from this because their boat alone is something like 60,000 hours just to build. Then there is the wider economic impact. They're bringing up to 60 people to New Zealand plus families to live. They will be [here] for an extended period until we all ship out to San Francisco in April 2013. They will build a base to house themselves. And basically Luna Rossa comes back to New Zealand and they were the darling team of 2000 and 2003 America's Cup and they're coming back.''
Backed by Prada, Luna Rossa will be based at Auckland's Viaduct. Patrizio Bertelli, the Team Principal of Luna Rossa Challenge 2013 and the CEO of the Prada Group, said: "I am certain that the co-operation of Luna Rossa with Emirates Team New Zealand will produce excellent results, giving to both teams a faster and more effective development both in the technical and in the sporting fields.''
Circolo della Vela Sicilia of Palermo has been chosen by Bertilli as Luna Rossa's challenging yacht club. He said the choice of the Sicilian club was significant. "I think it is important, in a moment like this, to underline the unity of our country also in the field of culture and sports.''
- APNZ