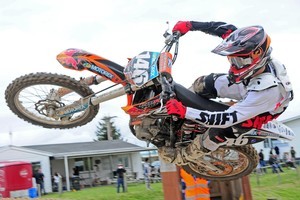 Expect to see the name Micah McGoldrick hitting a few headlines this summer.
The CMR Red Bull KTM rider from Rangiora produced a scintillating display at the Labour Weekend Motocross Extravaganza in Taupo and, if that is a forecast of what's in store, his rivals should take notice.
He won the national 15-16 years' 125cc motocross title ahead of fellow KTM rider and South Islander Hamish Harwood at the New Zealand Junior Motocross Championships in Tokoroa in April, but now it seems he has even bigger fish to fry.
The just-turned 16-year-old battled his way to runner-up spot in the junior 14-16 years' 250cc class in Taupo on the Saturday and, despite still being classified as a junior rider, he followed that up the next day with an even more impressive result, winning the senior national 125cc class on debut.
"That was my first time racing against the seniors," said McGoldrick. "I didn't get good starts but I managed to sneak through each time."
It gives McGoldrick plenty of reason to smile as he contemplates tackling the senior 125cc nationals beginning in February, including a crack at the national under-21 age group title.
And that's where he will come up against another rising star from the junior ranks, Rotorua's Cameron Vaughan. Vaughan (Yamaha YZ125) was unbeatable in the 15-16 years' 125cc class at Taupo. He scored a hat-trick of wins against exalted company such as Hadleigh Knight (KTM), of Taupo, Kumeu's Chase Smith (KTM), Katikati's Garth Amrein (Yamaha) and yet another Yamaha star, Otago's Courtney Duncan. Vaughan also rolled his Craig Stevens Motorcycles Yamaha YZ125 to the line to contest the senior national 125cc class the next day, finishing an encouraging third overall behind South Islander McGoldrick and Auckland's Jason Jones (Yamaha).
Vaughan, a Year 10 pupil at John Paul College in Rotorua, has been building up for the summer ahead - weight training in the gymnasium, skipping and running - with his focus now on racing the senior nationals and, like McGoldrick, making a dual bid for the national 125cc crown and the under-21 age-group title as well.
The upcoming battle for national 125cc and under-21 honours between McGoldrick and Vaughan, to name just two riders in the class, could be the highlight of the summer.