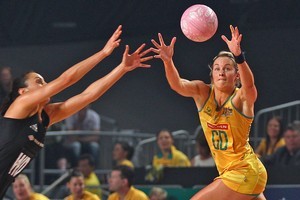 Australian netball coach Lisa Alexander says her team's youth and ruthless attitude have given them the edge over arch-rivals New Zealand.
And she predicts they're only going to get better.
The Diamonds added the Constellation Cup to their trophy cabinet with another come-from-behind win over the Silver Ferns in their series-deciding Test match in Melbourne on Sunday.
Just as she did at the world championship in Singapore in July, 23-year-old goal-shooter Caitlin Bassett starred for the Australians as she came on for the second half and helped consign the Kiwis to further misery.
The Aussies trailed New Zealand by six at halftime, but Alexander said she had full confidence they would bring it home.
"They are a very special group of girls,'' said Alexander, who took over the position from long-time Test coach Norma Plummer after the world titles.
"They're very ruthless in their execution ... we have a very strong self belief.''
She said she reminded the players at halftime of their physical advantage over many of the ageing Silver Ferns.
"I just garnered the moment and helped them to understand that they have a advantage, we are a young team and I just made sure their youth and their freshness and their ability to run hard could get them over the line, and did in fact.''
The slim-line Bassett, who stands 192cm, said she planned to increase her workload in the gym to be able to withstand the physicality of defenders like Silver Ferns Casey Williams, Leana de Bruin and Anna Scarlett for an entire match.
"I'm trying to work on my upper body strength to take the knocks,'' the West Australian said.
"I've got to keep working on having different facets of my game because I know there are tall defenders I will come up against and there are strong defenders so I need to make sure that I'm not just a holding shooter and am not predictable.''
New Zealand coach Waimarama Taumaunu, who also came into the job after Singapore, said her line-up needed more depth.
"I think there are some good players in New Zealand either recovering from injury or some good youngsters we haven't tested,'' she said.
"We don't have the numbers Australia has but I think there's probably four to six we can add to the mix over the next four years and that will give us greater depth.''
- AAP