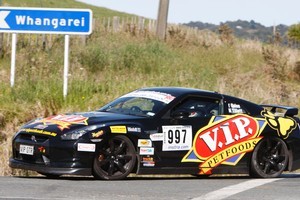 Defending champions Tony Quinn and co-driver Naomi Tillett have won the Targa New Zealand rally for the third year running, leading this year's event from start to finish.
Quinn, a Queensland-based Scot, and Australian Tillett did not win a stage on the fifth and final day on Saturday, but did enough on the first four days to secure the crown and mark them as one of the most successful pairings in the event's 17-year history.
After driving his Nissan GT-R35 to victory at the finish in Havelock North, Quinn explained what it took to win the title.
"To win this event you need to get in front early and stay there," he said. "I knew by lunchtime it would take a miracle, or a decent accident, for us to lose it." Runners-up by 1:11 were young New Zealand rally ace Glenn Inkster and his co-driver Spencer Winn who, despite winning all seven stages on the final day, finished behind Quinn and Tillett for the second year in a row.
Inkster said he went into this year's event, his second, with a clear strategy but failed to execute.
"The plan this year was to win the first stage and keep winning stages because, if you win the first one, all you have to do is match everyone else's times from that point on and you will win the event by two seconds."
Heading into Friday's racing near Marton, Inkster and Winn were still in with a chance but an extra slippery corner early on cost them.
They never gave up, though, and their pace over the fast, flowing roads of the Wairarapa and Hawkes Bay was a sight to behold.
"I knew this morning that unless something happened to Tony and Naomi we weren't going to win," Inkster said. "But there was no way I was going to back off. I still wanted to win as many stages as I could, and I didn't want to get to the end and find that something had happened to Tony and Naomi but I hadn't done enough to bridge the gap."
With his fourth Targa New Zealand title secured, Quinn now returns to Australia to contest the Targa High Country event in Victoria next weekend, again with Tillett.
The big question now will be whether Quinn returns for the 2012 Targa New Zealand event to try to make it four consecutive wins.
"I'm not sure how much longer I can keep the pressure up," he said. "I will be there for as long as I need to be and I'm happy to continue to set the benchmark until someone better comes along."
Behind the duelling Quinn/Tillett and Inkster/Winn combinations, Glenn Smith and his co-driver Andy Lowe finished third, followed by Steve Millen and Jen Horsey.
In the Metal Man Classic section, the Kirk-Burnnand family were back on top after playing second fiddle last year. The young gun of the family, Mark, took the overall win in his BMW M3, ahead of his uncle Barry and Barry's son Steven.
- APNZ