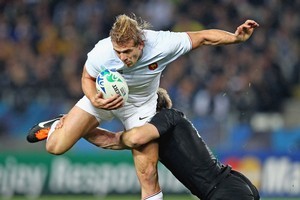 Aurelien Rougerie, the French centre suspected of eye-gouging Richie McCaw in the World Cup final, once sued a rival player for dangerous play and was awarded $86,000 in compensation, according to an Australian newspaper.
Rougerie, on video footage, seemed to be trying to put his finger into McCaw's eye after raking his face while the All Blacks skipper was trapped at the bottom of a ruck in the 77th minute.
Rougerie will likely escape sanction because the 48-hour citing period has passed and the All Blacks made no formal complaint. It is unlikely the IRB will start their own investigation if there is no complaint and no citing.
Players previously found guilty of eye-gouging have been banned for up to six months, while Frenchmen Richard Nones (two years) and David Attoub (70 weeks) have been given the most severe sentences for separate gouging incidents in European rugby in 1999 and 2009 respectively.
McCaw, who did not acknowledge the French team in his post-match speech after leading New Zealand to an 8-7 victory, has refused to publicly condemn Rougerie.
"I got poked in the eye or something. I don't know if it was intentional," McCaw said. "It was pretty quick. When the final whistle went, I had no damage, it was fine. I am just happy we won."
Neither Rougerie nor the French camp have commented on the issue, although French media are claiming a New Zealand media conspiracy is trying to ruin the reputation of their rugby team.
However, according to Sydney's Daily Telegraph newspaper, four years ago, former England hooker Phil Greening was ordered by a French civil court to pay $86,000 to Rougerie after an incident during a pre-season match in 2002 between Clermont and London Wasps.
As Rougerie came in to tackle Greening, he was fended off and sustained a throat injury. While no penalty was given, Rougerie later claimed Greening had deliberately elbowed him in the throat, forcing him to undergo three windpipe operations. Rougerie sued Greening five years later, asking for $194,000 in medical expenses and loss of earnings. The court ordered Greening to pay $86,000, which was covered by Wasps.
When Rougerie announced he was suing Greening - who has always maintained the contact was accidental - his lawyer Charles Fribourg said: "We would not have taken this action if there had been an apology for what happened."
The website of sports newspaper L'Equipe also mentioned New Zealand reports of an eye-gouging incident.
It said this was the "umpteenth controversy" raised by the New Zealand Herald during the World Cup.
L'Equipe said the incident could explain why the All Blacks, who "for once remain temperate", did not exchange jerseys after the final with Les Bleus and why they were not mentioned in any victory speeches.