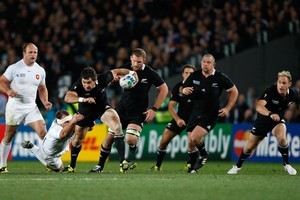 Listening to reaction from France to the World Cup final, we wince. Did we sound like this four years ago? Yes, sadly.
We almost convinced ourselves the All Blacks lost to France because the referee missed a forward pass.
Well, he also sin-binned our most penetrative player that day but a team with a man short can still be competitive, as Wales proved against France at this World Cup.
Did we hear Welsh fans blame the ref? Did we ever.
If Wales had to blame someone that day it was their goalkicker, just as the All Blacks of 2007 were to blame for their own demise. The referee is one of many variables teams must contend with.
The rules of the game are so numerous and some so open to subjective judgment that interpretations are bound to vary.
All that can be said with certainty is that the international referee is not partisan.
He is a professional these days, with pride in his performance and the need to retain the respect of his peers.
In almost all situations he has a better view of play than the irate fan in the stands or the armchair, though they may have the advantage of a television replay.
Referee are not automatons; they are conscious of the crowd, the occasion and the consequences of a match.
They must concentrate as much as any player, call what they think is important and hope a ruling does not decide the result. It seldom really does.