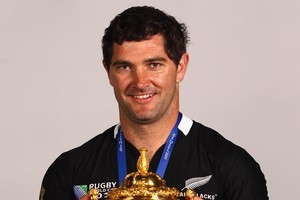 FMY-watch I
Sighted: George Gregan taking a stroll through Herne Bay. Someone yelled out "four more years".
FMY-watch II
Sighted: George Gregan at a cafe in Devonport. Someone yelled out "four more years".
FMY-watch III
Sighted: George Gregan in a bar on Ponsonby Rd. Someone yelled out "four more years".
FMY-watch IV
Sighted: George Gregan heading for the airport.Strife of BryanLast night's IRB annual awards dinner was a success and a fitting tribute to the event. Dramatic banners hung from the ceilings bearing the names of previous winners, but - whoopsie - it's Bryan Habana, not Brian Habana.
8-7
History never repeats? Wrong. All Blacks v France in a World Cup final, at Eden Park. Final score 8-7. As in 1-9-8-7. Spooky.
Low scores
And don't be surprised by that low score. In the five finals bookmarked by 1987 and 2011, only five tries have been scored - by Tony Daly in 1991, Owen Finegan and Ben Tune (1999), Jason Robinson and Lote Tuqiri (2003). In six World Cup finals, 203 points have been scored, disturbingly 152 of them from kicks.
Suzie's work
Who's the high-powered sports media insider forced to pull over on Fanshawe St while driving to work on Sunday and - er - do what Jeff Wilson did on the sideline in 1995. "Nervous about the game," he later told colleagues, as a distinct whiff of bourbon hung in the air.
Winning losers
Don't feel too sorry for Les Bleus. The final's big losers each walk away with $250,000. Victory would have meant a payout of $300,000 each. Either way, it's a fair step up from the payments of $100,000 the All Blacks trousered and a reminder of where the cash is in this great game.
Waiuku's record
The last two All Blacks to come from Waiuku: Stephen Donald and Zinzan Brooke (the big No 8 was born in 'Uku). So Waiuku has a 100 per cent hit-rate for World Cup-winning All Blacks. Can any town with more than one AB match it?
Well tackled
There were many wonderful performances in the World Cup, but few will match the defensive effort of Australia's quarter-final victory over the Springboks. The Wallabies had only 24 per cent of the territory and 44 per cent of the possession, yet snuck through - exhausted - to the semifinals. Well done, Diggers.
The eyes have it
Did anyone else think those scratch marks around McCaw's eyes looked oddly similar to the ones John Eales was sporting after beating France in the 1999 final?
Spies tunes in
We have no time for people who suggest South Africa is a land that taste forgot, where style, haircuts and popular music never recovered from the isolation of the apartheid years. And neither does Pierre Spies - here's the great man on Twitter: "Nothing like a Roxette song on your way home. 'Feels like I'm fading like a flower ...'."
Too many Thierrys
It's been a long tournament and we could all do with a cup of tea and a lie-down. Ian Smith mistook French captain Thierry Dusautoir for soccer Thierry Henry when giving the flanker the man of the match award on Saturday night.
Thanks ...
... for reading and sending in the cup gossip, the photos and the oddities that made CupShorts possible. Let's do it again in four more years.