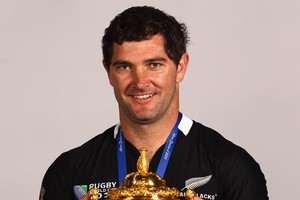 It was a Sorry Sunday. Just over three weeks ago, the press received an early morning summons from the All Black camp.
The news was grim. Daniel Carter had damaged his groin so badly that he was out of the tournament and Aaron Cruden had been called in as a backup to Colin Slade.
All Black coach Graham Henry went into some detail about Carter's injury, the effects of the five-eighths' absence and how the All Blacks had to cope without him. An inquiry came from the floor about the replacement choices. Was Stephen Donald considered for the job?
Henry looked down his nose and batted away the inquiry with a curt negative. To those of us in the room the response carried a scornful tone in its solitary word.
This Sunday just gone, there was a far more rapturous mood about Donald. The Waiuku Wonder's penalty had been instrumental in sealing the World Cup triumph, "Beaver" had bitten back.
His performance underscored the fates which can evolve during such an event and how sides have to be flexible and good enough to cover a range of possibilities if they are to succeed.
Donald was used for three substitute duties on the All Blacks' last tour to Hong Kong and Europe, but that seemed it. He was unwanted this season, his cards were marked.
Colin Slade was the man to deputise for Carter and Cruden was just a tad behind. Donald was heading for a contract with Bath but needed to stick around in case. A few beers, a bit of training and some whitebaiting near Port Waikato made up some of the daily menu for Donald until his phone went. Several times. Busy with the whitebait, Donald didn't answer, until Mils Muliaina sent a text advising him to take the call.
The fourth-choice first five-eighths was wanted, pronto. Then it snowballed, Donald sat on the bench through the semifinal victory over Australia and then, after 34 minutes, was on the World Cup final track for an injured Cruden.
"He is just great," Henry told the media after Donald's performance. "He is a tremendous team person. He's very popular in the group, a good professional.
"I had a long talk to him after the game and he had a huge smile on his face to be part of this because you people have given him a bit of stick at times - and perhaps he deserved it occasionally - but he has got great character.
"It was just great that he could come through and kick that goal and play some good footy in the second half, so I am pleased for him."
During the week's lead-in to the final, McCaw wondered if Donald could kick the goal that made the difference.
"He is a hell of a good man and I am so pleased he got an opportunity."
The five-eighths later confessed his preparation had not been ideal but it had been great to nail his dream World Cup appearance.
"When I got called into the squad the dream got closer to being a reality and now I'm here," he said.