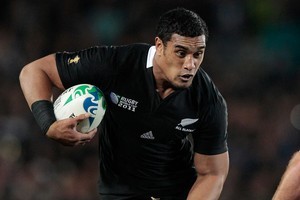 Jerome Kaino emerged as the Iron Horse of the campaign, Corey Flynn the Food Bill.
The indomitable Kaino played all but 30 seconds of the Rugby World Cup campaign, most of them to a gold standard.
As Kieran Read recovered from his ankle injury and Richie McCaw laboured through the pool stages with a foot that would not behave, Kaino was Graham Henry's go-to guy.
If the added responsibility weighed heavily upon him, he never showed it.
He played like a Cyborg through six games. It took until the final, when faced with France's Hydra-like loose forwards Thierry Dusautoir, Julien Bonnaire and Imanol Harinordoquy, to learn he was human.
It is hard to reconcile the Kaino of today with the player who got a dressing down from Henry during the 2010 Super 14 campaign. The All Black selectors were tired, he said, of Kaino playing like Tarzan one week, like Jane the next.
No one would accuse Kaino of shirking his duties any more.
"I can't believe it," Kaino said. "I grew up dreaming of winning the World Cup, maybe it will take a couple of days to sink in."
Kaino was far from the only reason the All Blacks won the title, but he was a big one. Spare a thought, too, for props Tony Woodcock and Owen Franks, who were the only others to start every match.
In an energy-sapping position, their combined performances laid the ideal platform for the tournament.
Conrad Smith was the hardest working back. He was not in the 22 for the opener against Tonga, but those were the only minutes he missed.
His centre partner, Ma'a Nonu, at 469 minutes, was only 11 shy of his Hurricanes teammate.
Halfback was the most evenly split position. Piri Weepu played 315 minutes, some of them filling in at first five-eighths, while Andy Ellis and Jimmy Cowan accumulated 152 and 140 minutes respectively.
The New Zealand Rugby Union, which has been walking on eggshells around the re-signing of Sonny Bill Williams, could point out to agent Khoder Nasser that although he played just seven minutes (it would have been 11 were it not for a yellow card) in the semifinal and final, his total of 329 shows he was far from a spare part.
Hosea Gear was the only squad member not to see active duty, although he was only brought into the squad in the week before the semifinal.
Flynn has been there from the start and could be forgiven for never wanting to see another tackle bag again, having racked up just seven minutes on the field. At a minute-per-week, time must have felt like it was standing still.
Others who did not rack up a full game's worth of minutes were Ben Franks (69 minutes), man-of-the-hour Stephen Donald (46), Anthony Boric (43) and John Afoa (22).