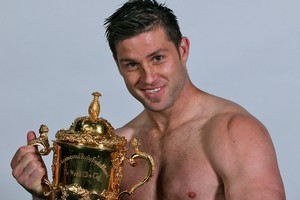 Last night's Rugby World Cup lifted a weight from All Black winger Cory Jane's shoulders - because he can return to Twitter.
All Blacks management imposed a ban on team members using social media during the tournament, which saw keen All Black Twitter users Jane, Piri Weepu, and Jerome Kaino farewell their followers online at the beginning of September.
Straight after the final whistle last night the fan favourite Jane was back with a vengeance.
"1st things 1st.....I'm back #TwitterWorld and at PACE," he wrote.
That was followed by a message for his fans.
"I just wanna thank everyone for there support this year on my ups and downs #MuchLove... #WorldChamps sounds veddy good."
And then an image of Jane with the trophy, followed by a dig at the media.
"Now I got that out the way I want u all 2 meet & say hello 2 Mr William Webb Eills."
"Are we aloud 2 drink now???? Or will the media report this haha."
Jane hopes All Blacks' management won't impose a similar ban for future World Cups.
"It finally released a bit a weight off the shoulders by getting back on Twitter. I was struggling," Jane told RadioSport. "Hopefully they don't have a ban now, because, Jesus, it took it's toll, I'm going grey."
Jane said last night's victory still hadn't sunk in.
"If we had lost I don't think we would be staying in New Zealand too much longer, probably be shot."
He said he wasn't surprised by France's impressive performance.
"It was a hell of battle, we knew that they were going to come out pumping. They put us under pressure, it was a defensive game. We knew it was going to be something like that. I'm happy we came out one point winners instead of them.
"We knew we had to grind it out, we knew that while people were saying that the All Blacks were the favourites and we'd kill them, we knew different. It's a world cup final, and everyone was going to throw it on the line and work hard for each other. It was a hell of a game."
- HERALD ONLINE