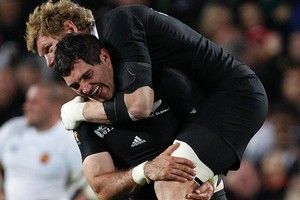 Eliota Fuimaono-Sapolu developed a reputation for himself during the Rugby World Cup as a vocal critic of the International Rugby Board's treatment of tier-two nations and a champion of the underdogs.
Last night, after the All Blacks' 8-7 victory over France in the tournament final came courtesy of a penalty goal from the unlikeliest hero of them all, the "Samoan tweeter" came out in support of New Zealand's fourth-choice first-five.
"Donald haters, eat your words."
Waikato playmaker Stephen Donald, vilified by many New Zealand rugby fans for his role in the All Blacks' only loss in 2010, took the field after the All Blacks' playmaker Aaron Cruden succumbed to injury after 34 minutes against the French.
Canadian player Phil Mackenzie tweeted what thousands of people were almost certainly thinking: "A little advice to Stephen Donald. Don't F this up."
It was a moment of mixed emotions for fans, who were first gutted by the sight of Cruden on the turf, then numbed by the realisation of what that meant. With first-choice goalkicker Piri Weepu showing poor form with the boot, and the magical Cruden out of the running it was clear that Stephen Donald, villain of Hong Kong, would have to be the man to engineer a victory for New Zealand.
That is precisely what he did, kicking a 45th minute penalty to give the All Blacks a lead they fought hard to maintain until the final whistle.
"Well done bro," tweeted Fuimaono-Sapolu. "Really happy for you."
Rugby stars salute the All Blacks
Injured Australian first-five Quade Cooper congratulated the All Blacks on their victory.
"France were great all game, but congratulations to the Kiwis for winning the RWC," he tweeted.
"After three RWCs as favourites, it's good to see them win."
"Fair play to the French," tweeted England's Ben Foden. "They went down swinging."
Ireland's Tommy Bowe agreed.
"Great performance by France to make it such a tight game, but New Zealand are deserved champs."
Respect for Les Bleus
South African halfback Butch James was among the Rugby World Cup players supporting Les Bleus. He said he felt France were the better team, and unlucky not to win.
"Thought the French were going to get a hiding," he tweeted.
England's Richard Wigglesworth also stood up for the French, saying they'd have won if some "different decisions" had been made.
"At least they shut up a lot of people who were bagging them."
Teammate Mike Tindall believed the All Blacks were the most consistent team in the tournament, but France were the better side on the night.
"That's the sign of a great team when you can win when you don't play well," he said of the All Blacks.
Meanwhile, Springboks hero Victor Matfield tipped his hat to the All Blacks' coach.
"Well done to New Zealand. How humble is Graham Henry after such a great career as ABs coach."