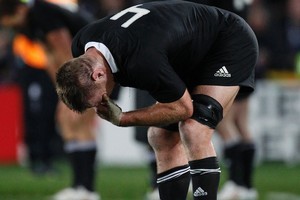 Hard men do cry.
All Black Brad Thorn last night cried the tears of a warrior as he filled in the one entry missing in his resume - Rugby World Cup champion.
The tireless Thorn broke down after the match as New Zealand repelled a stunning and mostly unforseen French performance, led by the indomitable Thierry Dusautoir and his right-hand man, No 8 Imanol Harinordoquy.
The needle had dipped into the red zone. In his last act as an All Black, Thorn had emptied the tanks - and a little bit more.
Thorn has got better as this tournament has got longer, but even he looked powerless to stop French raids midway through the second half.
With Ali Williams already on for Sam Whitelock, there was no chance of injecting fresh legs. Thorn just had to do what he has done consistently over 17 years of top-level footy in two codes: he had to man up.
The last 15 minutes suited him. Tackling, more tackling, a few more tackles then some Southland-style picking and driving as the All Blacks learned the painful lessons of four years ago and shut the game down.
If rugby was judged on style points, this was the equivalent of a bellyflop off the 3m springboard at the Olympics, but the only two numbers that mattered were this - eight and seven.
The hulking lock said he would remember the game for the rest of his life. "I'll be talking about this when I've got no teeth, it'll probably be in five years - I'm pretty old.
"I'm just going to float around on a bubble for some time, I guess."
It was a win the country needed, he said, particularly after all the support All Black diehards had shown throughout the tournament.
"I'm in shock, I'm so happy for this country, you know: all the kids, all the mums and dads, teenagers, old people. I'm just so proud of this team."
The committed Christian and former Brisbane Bronco champion paid his respects to a team that would just not give in.
"I'm so proud of this team, I've got so much respect for the French ... they gave it everything they had. They should be really proud of themselves."
Another hard man, Jerome Kaino, said the win was a long way from sinking in. "It'll take a couple of days," he said.
Kaino admitted he felt the game was slipping away in the second half and paid tribute to the power of the French. "There were times we felt they were gaining momentum, gaining confidence. It went down to the wire and I'm sure there were a lot of nervous people around New Zealand."
In a strange sort of way, breaking the 24-year drought in such a gut-churning, backs-to-the-wall manner will only make New Zealanders appreciate more just how hard it is to win this damn thing.