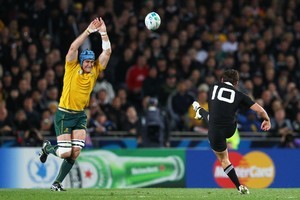 Winning is a habit. At least, it is in the Anglo-Saxon rugby world. From regular success comes innate confidence, motivation to train and improve and, importantly, an enjoyment of the big occasion.
Inevitably there will be the odd hiccup as there always is in sport, but habit is an important ingredient - especially in play-off matches. I used to love the feeling of getting on the Crusaders bus to go to the ground for a semifinal, as it felt like it was the start of "our" stage of the season.
England in 2003 had the habit, the Australians have had it since the 1980s, the All Blacks and Springboks since rugby began. Unfortunately for the All Blacks, this concept doesn't apply to French teams who in their inconsistency are capable of both incredible lows and unbelievable highs. It is this nature which will encourage French supporters today; they even seem to revel in their own unpredictability, and enjoy being unable to explain it.
The traditional Gallic shrug is perfect for the Frenchman asked to rationalise the wins over the All Blacks in 1999 or 2007. To him it was just a natural tumble of the dice, and the romance of sport. To me, three important ingredients were all present to produce this type of unexpected result.
First, self-liberation. The French coaching system favours dominant personalities as coaches who castigate and berate their players, without really educating them. When the players decide to play for themselves, disregarding their narrow instructions and primitive strategies, they thrive on the joy of living in the moment and freedom of expression that comes from playing "naturally".
Second, their pack mentality. While Anglo-Saxon teams will pull together to cover guys who are having an off day, French players tend to drop their heads a little when others around them commit errors. When they realise that everyone is up for it however, anything is possible.
Third, their physicality. French rugby is based on the combat, the forward battle: scrum, maul and ruck. When they feel they can bully a side physically, as happened to us in that second half in 1999, they grow a foot taller and feel invincible.
If these three factors all come together tonight, the French will be very difficult and it will still require a huge effort from the All Blacks to prevail. However, I don't honestly believe this Equipe de France has the cohesion and spirit to tick all those boxes over 80 minutes.
If the All Blacks can muster the same ferocity up front as against the Wallabies, and re-discover the finesse in attack they had in earlier rounds, I feel they can break the spirit of Les Bleus and bury them.
Clearly the scrum will be a big indicator, so I have no complaints if the All Black forward pack has trained solely on this during the week. Recent victories over France in their own country had their foundation laid by our scrum dominance and if we can provide Aaron Cruden a comfortable ride then I'm sure he can continue his confident and composed form.
No doubt France will try to put pressure on Cruden, as the least experienced back and in a crucial position, but his assured displays in his two games have left me at ease. Sure, he hasn't been called on to kick so much yet, and it is probably the weakest aspect of his game, but he is capable, as he showed with the well-struck drop goal against Australia.
Positional kicking improves with age as you get used to the timing; having the confidence to stop yourself to set up initially for the kick, and go through your routine without eyeing up the defenders as they pour through. With plenty of experience around him, Cruden can still largely play his natural game and use his strengths of stepping and attacking the line.
I loved the time just before his clean break in the first half last week, when he attacked aggressively between two Australian forwards. He didn't go forward too far but he didn't get that 80kg frame hit backwards either. Most importantly he presented the ball cleanly and easily. Along with his brave tackling, he can have every confidence in his physical game in the final.
I think we'll see more attacking kicks from the All Blacks - bombs, flat crossfield kicks, chipkicks and grubbers - especially early on, as it will prevent the French attacking while they're still emotionally charged, as well as putting pressure on their lightweight back three who struggle at times with confidence.
The tactic worked well when used sparingly against Australia, who coughed up the ball under the fierce attention of the likes of Kahui and Nonu.
While we must still respect the individual talent of the French players, I believe that the links in their team are not as strong as ours and will ultimately break down faced with the intense scrutiny of the All Black assault. Go the Blacks!