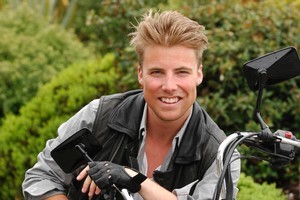 Jossi Wells soars through the air, acrobatically twisting his body, before landing neatly on the soft spring snow.
Swishing to a stop at the bottom of the giant Cardrona Alpine Resort halfpipe, he adjusts his black Oakley sunglasses and flashes that unmistakeable Hollywood-like smile.
In the chilly South Island mountain air, there's a barbecue cooking and music pumping from the stereo loudspeaker. Wells, the 21-year-old Kiwi freeski superstar from Wanaka, jokes with friends and family there to watch him train.
A video camera follows him everywhere. Before hopping on a lift - recently named after his family - for another training run, Wells rattles off a soundbite of commentary like a pro.
Just as launching himself from gravity-defying ski jumps to dizzying heights is second nature for Wells so, too, is his connection with the camera. He's had years of practice, after all.
And next week, his high-flying life on film will be offered to audiences worldwide when a 52-minute documentary on the freeski prodigy and the three younger brothers following in his footsteps is launched internationally.
Winter of Wells tells the story of how Wells and his siblings, Byron, 19, Beau-James, 15, and Jackson, 13, have risen from humble beginnings to become international action sports heroes.
It's the culmination of three years of filming regular webisodes by the same name for the internet.
But the more basic web videos, in which his gruelling tricks and jumps feature heavily, showed only glimpses of who Wells really is.
As he prepares to see the film for the first time at the world premiere in Austria on Tuesday, the prospect of having his secrets laid bare is "definitely scary".
"It's like, 'here's my life everyone'," Wells says. "People who have followed me have followed me because of my skiing and that's kind of almost it, I believe. Now, with the doco, it's so personal."
Little wonder, then, that there's heightened interest in the Wanaka heart-throb who drives a late-model Audi A4 and bought his own swanky three-bedroom apartment in the resort by the time he turned 20.
He was a 2011 Halberg Awards best sportsman finalist - alongside All Blacks' captain and eventual winner Richie McCaw - but it's taken a while for him to become a household name in New Zealand.
Yet, in the United States, Wells has moved beyond being skifield royalty.
This year, he featured among the neon of New York's Times Square on a huge billboard advertising headphones by Skullcandy. His face was part of a campaign that included rapper Snoop Dogg. Wu-Tang Clan's chief producer, RZA, has even remixed Wells in a track for a Nike 6.0 ad.
"As much as there's this business side of it, I'm still the kid who froths on going skiing every day," he insists.
Behind the scenes capturing the story is Wells' boyhood friend and award-winning action sports cinematographer Tim Pierce.
Pierce, 24, was right beside Wells to film when he won his second X Games silver medal last year, when he got his bronze at X Games the same year, when he was crowned 2010's overall world freeski champion - and everything between.
Spending so much time together, Pierce is probably the most qualified person to independently vouch for Wells.
"He hasn't changed at all," Pierce says. "I guess as he's become more famous, he has to think about things in a different light and perhaps decision-making has become increasingly important."
Wells interjects that he's "still the same kid who played his violin outside New World to make money".
Flash back 10 years and Wells was barely able to scrape up enough cash to buy himself a new skateboard or skate shoes. The Wells boys don't come from a wealthy family who forked out megabucks for their expensive sport.
Parents Bruce and Stacey worked at Cardrona Alpine Resort in the winter (Bruce as an instructor and Stacey in the creche) and the kids all learned on rickety sets of ex-rental skis fished out of the rubbish. Wells got his first pair, aged 2.
"Dad would restore them so we could use them the following season," Wells recalls.
"Mum and Dad found any way they could to supply us with the things we needed to do the things we wanted."
Wells attended primary school for two years before Stacey, a qualified teacher, decided she would teach the boys at home.
As the kids got better at skiing, home-schooling proved the better option to accommodate travelling up to 11 months a year.
Chasing winter seasons with his coach father and younger brothers while Stacey stayed at home, Wells really got noticed after winning the European Open halfpipe event at 16. In 2008, as the youngest competitor in the field, Wells won his first X Games silver - and the pay cheques and sponsorship came flooding in.
"I'm being watched everywhere I go - whether it be on the internet, on the mountain or in town - I notice people's eyes on me. That was definitely a hard thing to get used to."
Relaxing on a big leather couch in his meticulous apartment, Wells doesn't look like a typical 21-year-old. Articulate and stylishly-dressed, the eligible bachelor wears a 3.2 total carat diamond and white gold necklace in the shape of an M, a gift to him from sponsor Monster Energy Drink.
On the walls are artworks that he painted and a stylised "JW" personal logo made by a friend. A custom-painted 1995 Yamaha 250cc motorbike is in the garage.
Wealth and fame are by-products of his success on the slopes, but that's not where his attention lies. "You've got to focus on doing your job well and that stuff will come."
Wells credits family, Christian faith and his home town for keeping him grounded.
"It's like that Beatles song - 'it's a fool who plays it cool by making his world a little colder'. I mean, skiing's not going to last forever.
"I can't be a 30-year-old dude who has no friends because I thought I was too cool when I was younger."
Wells' next big goal is to win gold at the 2014 Winter Olympics in Russia after freeskiing became an official sport earlier this year.
"New Zealand hasn't had a medal at the Winter Olympics for a long time so it would be great to be that guy who does it for New Zealand."
But, for now, he's jetting off to Austria for the Winter of Wells red-carpet premiere before competing at a big air event in London next week.
"I'm living my dream. I try to make the most of it."