In 20 years of top-flight football, Brad Thorn has forged a reputation that inspires fans and peers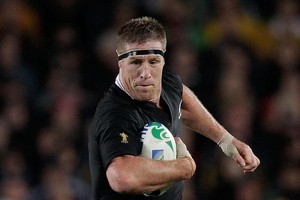 A decade ago, Brad Thorn was picked for the same debut All Black tour as young flanker Richie McCaw.
But almost before the nation had digested the news and coach John Mitchell had settled into some explanations about his tour party, Thorn had withdrawn from the squad. He was uncertain about a stack of issues - his place in rugby and life in New Zealand - he needed time to think through his plans.
The nation reeled. It was almost unprecedented. Turning down the chance of a black jersey and certainly a first appearance in the black uniform seemed incomprehensible to the bulk of the country's sporting followers.
It was a bizarre day for the Mosgiel-born lock who took congratulatory calls from excited relatives and then used the same phone to tell team manager Andrew Martin he was pulling out of the team.
"Imagine my state of mind having to ring up and turn down the offer," he told the Herald.
Imagine lots of things. But yesterday, Thorn was going through a series of callisthenics outside the All Blacks meeting room, getting the 1.96m, 114kg frame limbered up for his last day in the black jersey in the World Cup final against France.
Tomorrow will be his 59th test before he begins his next contract in Japan.
Whichever way you dice it, Thorn's sporting life has been remarkable, playing league for the Broncos and Kangaroos on the other side of the Ditch, then mapping out a rugby career with the red and blacks and the All Blacks.
He shifted from Otago to Queensland when he was 10 with his watchmaker father Lindsay and nursing mother Robin, who went in search of greater work prospects. Thorn played all sorts of sport at school until Broncos head scout Cyril Connell spotted him and he made his first grade debut in 1994.
Thorn took his training doctrine from Shane Webke, worked incessantly hard on toughening his frame for a league career of 200 matches for the Broncos, 14 State of Origin and eight Kangaroo tests.
Since his rugby life kickstarted, Thorn played 31 ITM Cup games and 92 matches for the Crusaders around his All Black career. It's an enormous package of performance, a wallchart of records and achievements with one more performance left on the big stage.
"Yeah it's been a bit of footy," Thorn laughed huskily. "It's been great but it's not finished."
There it was in a nutshell. Thorn might have his mind on a variety of projects but he never lost sight of his target, he knew where he was going and how he was going to get there.
Three of his All Black colleagues were asked for a brief account of their warrior mate this week. Conrad Smith was first to get nailed and gave it the Big Bad Brad description, Andrew Hore went for professional and Wayne Smith pitched in with relentless.
Admiration runs deep in the camp for the lock, for the way he has honed his talents to another game and shown the less-experienced players in the squad how to operate as a professional athlete.
"He's easy to coach, give him something to push, give him something to tackle, give him something to catch and he's happy," forwards coach Steve Hansen said.
Former All Black lock Andy Haden may have labelled Thorn a "donkey" before this tournament but Hansen was happy he had the seasoned lock in his pack.
"He is a big strong man, he is a very passionate person, he has been a professional sportsman for about 20 years. He brings all that experience of 20 years as a professional.
"He is the first guy doing his stretches, the first guy making sure his dietary requirements are right, the first guy to do his recovery and he knows he has to because he is 36 years old but it is something he has done all his life. I think that is why he is still playing at 36," said Hansen.
It had been true Thorn's form had wavered this season. It had not been as sharp, consistently, but that was to be expected from a man of his vintage.
"This year has been about trying to win the Super 15 and trying to win the World Cup and for those of us who have played sport and you play in a team for a long time whatever the sport is, sometimes some fixtures are more important than others," Hansen said .
The biggest match of Thorn's illustrious career was tomorrow at Eden Park and the coach was sure his form would be sharp for that appointment. His legacy was his professional ethic and attention to detail.