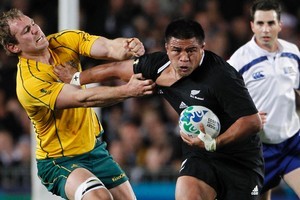 If there's one phrase the All Blacks have used a lot this week, it's variations of making sure they "get the job done".
The world might be writing off the French, and deep down the All Blacks probably know Les Bleus can't live with them if they play to their potential, but that's only if they arrive with the same attitude they brought to the semifinal win over the Wallabies. They were intense, relentless and focused.
But that win will count for nothing if they lose on Sunday. The All Blacks have a chance of not necessarily re-writing history but creating their own. They will be lauded by an appreciative country after 24 years of despair and it's not outlandish to suggest knighthoods might one day be handed out to a few.
Prop Tony Woodcock doesn't usually say much. A bit like during 80 minutes of football, he leaves the flashy stuff to those who wear bigger numbers on their backs. But he was right when he said: "We have to make sure we finish the job."
The task of doing that has been handed to the same XV who started against Australia. The only change in the matchday 22 sees Otago flanker Adam Thomson take his place on the bench in place of Victor Vito after recovering from the ankle injury he picked up against France four weeks ago. He was chosen ahead of Vito because of his greater big-match experience.
It was an easy side for coach Graham Henry to pick and the product of a relatively settled selection policy.
It is also a vastly experienced side, with 708 caps in the starting XV. The presence of first five-eighths Aaron Cruden (eight) and fullback Israel Dagg (11) brings the average number below 50 caps to 47.
Many have some experience of what it's like to miss out on winning the World Cup or missing playing in one. It's not fear of losing that is driving this team but the opportunity of winning.
"Although they may be ranked the leading team in the world, they have never been world champions and it will be just marvellous to have that title because they have had every other title going in rugby apart from this one," Henry said. "So for Richie [McCaw] and the boys I think it would be fabulous. You don't deserve that title until you do the job but I think they are good enough and that would be the icing on the cake."
The All Blacks have been in a relaxed mood all week - Ali and Sonny Bill Williams were probably too relaxed on Wednesday as they made spectacles of themselves in front of the media - but they will sharpen their focus as the game nears. The combined factors of playing in a World Cup final and the unpredictability of Les Bleus can do that to players.
"This French team, we are not sure who is going to turn up so we have to prepare as if they are the best in the world," Henry said. "They certainly have the individuals to do that. It's just whether they can produce that as a side.
"All the word is they have prepared and are very focused and are enjoying the underdog tag and are using as much of the ammunition through the media they can to get themselves up there. They feel they are not being considered in this final by a lot of people. We don't think that. We think they are a very good rugby team, with some outstanding players and it's going to be a huge final.
"Their forward pack is as probably as good as any in this competition, their scrum is very, very good, they have a world-class loose forward trio and they have backs who can bite you."
Henry sidestepped talk of his future but it's widely expected he will step aside as All Blacks coach after the final. After eight years in the role and unprecedented success, there's only one left to do - get the job done.
- APNZ