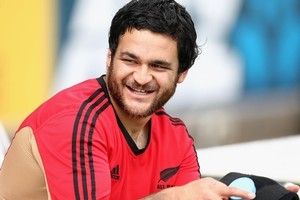 All Blacks halfback Piri Weepu says he'll prepare for the World Cup final with the help of American hip hop star Busta Rhymes.
The halfback, who was man-of-the-match in the quarter-final against Argentina and had another strong showing in the semifinal win over Australia last week, will listen to the rapper's collaboration with nu-metallers Linkin Park.
"When I get into the changing room, I hang my jersey up where I can see it and put the headphones on," Weepu said. "I listen to Together We Made It [by Busta Rhymes]. It's just a song that plays in my head because, without my teammates, I wouldn't be here and I'm pretty sure they feel the same way."
Weepu isn't the only All Black to listen to music as they get motivated for kickoff. Hooker Keven Mealamu listens to R&B, prop Owen Franks switches between rock and rap and fellow frontrower Tony Woodcock will tune into whatever Mealamu has playing.
Listening to music is just one way the All Blacks will kill time ahead of Sunday's Rugby World Cup final - and the 9pm kickoff means there will be a lot of waiting around.
Reserve halfback Andy Ellis will play cards and drink coffee with a handful of teammates. Fullback Israel Dagg will lose himself in his over-sized headphones. Wing Cory Jane will sleep in late, skip lunch and joke around. He doesn't really get nervous any more and tries to lighten the mood around him. For him, relaxation is key.
"A lot of guys lose the plot, like serious guys," Jane said. "They will be focused. Israel Dagg has his music on and you can't talk to him at all. I joke around and like to have fun. I used to get nervous and it was terrible but now it's mostly excitement."
The players will have an afternoon meal and then most will get strapped. Most need it to cope with niggly injuries or to hold their battle armour in place but some will do it just to pass the time.
They are then likely to have a team meeting before boarding the bus. That's the time when players go into game mode. It's usually a quiet time as they focus on what is about to happen and many are lost in their own thoughts as they listen to music.
There is still a hierarchy in the team and players have to earn the right to sit towards the back of the bus. The likes of Richie McCaw, Brad Thorn, Ma'a Nonu and Weepu will occupy the back seats with the coaching and management staff at the front.
"Before we get onto the bus, everyone does their preparation during the day," Weepu said. "I believe most of the boys as soon as we get on the bus are pretty much ready to go."
Graham Henry said he doesn't like to interfere in the preparations of each player.
"There are no final words. It's their time. It has to be their time. They have to get their own minds right and settled and on the job.
"And people talking to them at that time is an absolute waste of time. In fact, it's a distraction. Words will be said today and tomorrow but I don't personally believe it's the right time to talk to teams before the game."
- APNZ