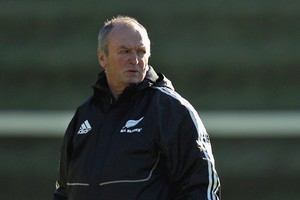 Graham Henry said on the eve of the World Cup that the tournament would define this All Blacks side. It will also define his coaching career.
The All Blacks boss will on Sunday be known as a World Cup-winning coach or one who headed two failed campaigns. It's that simple.
It's perhaps not fair, given his incredible success in his eight years in charge. He's won 87 of the 102 tests he's coached the All Blacks, multiple Bledisloe Cup and Tri Nations trophies, three grand slams, a series win over the British & Irish Lions and three times been named IRB Coach of the Year (2005, 2006 and 2008).
His 85 per cent winning record is the best for any coach of a major nation in the professional era. New Zealand have lost to only South Africa, Australia and France during his reign and have a winning record against all three.
But only one win will count. Henry knows that.
"It is career-defining, I'm afraid,'' Henry told the New Zealand Herald recently. "Even though there are a lot of things I am very proud of, this is whether we put the icing on the cake.''
It will taste sweet if they do. Henry's reign has often been a controversial one and there were times when he became a figure of great unpopularity.
Few, including Henry, expected him to survive the fallout from the 2007 World Cup quarter-final defeat to France as vitriol and disbelief swirled in equal measures. The outcry when he became the first All Blacks coach to be reappointed after a failed World Cup campaign, beating off the challenge of Robbie Deans who then crossed the ditch to Australia, was deafening and he was widely castigated for the contentious rest and rotation policies he employed in the leadup to that tournament.
"I have great admiration for Graham's ability to coach the All Blacks for 100 test matches,'' said Laurie Mains, who coached the All Blacks to the 1995 final. ""I think it's an incredible achievement without having a heart attack from the stress that goes with it.
"There probably have been All Black coaches in the past who would have liked a second go at the World Cup and would have been better off for it. There have been some difficult times for Graham but they have stuck to their task as a panel and right now they have New Zealand in a position where they will win the World Cup.''
Crucially, Henry learned from his mistakes and evolved. Rest and rotation were parked to a large degree - certainly the extent that teams were changed almost entirely from one week to the next went - and replaced with a more consistent selection policy.
He also empowered his players and demanded they take more responsibility both on and off the field. It placed a higher value on the jersey when many players might have been tempted to cash in overseas and seen players like Richie McCaw, Dan Carter, Conrad Smith and Ma'a Nonu remain in New Zealand.
One thing Henry hasn't compromised is playing attractive rugby. He doesn't subscribe to the view you can't play good rugby and win and he's often been critical of the way opposition teams try to squeeze the life out of teams they play. He took great comfort from the fact all four World Cup semifinalists attempted to play running rugby to some degree.
Henry has said he's not planning to reapply to be All Blacks coach after the World Cup, opening the door for assistant Steve Hansen to take over. But it's hard to imagine Henry won't be involved somehow and the NZRU are hopeful of employing him in some capacity.
What the role might be isn't clear _ a director of rugby position has been suggested _ but after nearly 40 years as a coach he possesses considerable intellectual property.
He will also leave behind extremely high standards, particularly if the All Blacks win on Sunday, but Mains doesn't think it will be burdensome for the next coach to take over.
"There are a fair group of good players who will still be available to an incoming coach so I don't think it will be difficult at all,'' he said. "There are a number of other international teams who will have to go through more rebuilding than the All Blacks.
"In terms of living up to Graham's standards, well every coach has come into the All Blacks with a record behind them and living up to those standards is just a part of it.''
Henry doesn't have the best record of any All Black coach (four coaches including Fred Allen had 100 per cent winning records and Alex Wyllie won 86.2 per cent of his 29 games in charge) but he has overseen by far the most games (John Hart is next on 41).
He will leave behind a significant legacy. Just how significant will be determined on Sunday night.
- APNZ