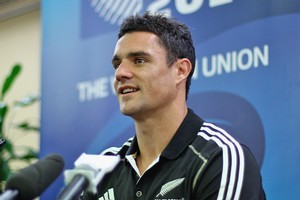 Dan Carter wanted nothing to do with the World Cup in the immediate aftermath of his tournament-ending groin injury.
It took almost a week before the All Blacks first-five, considered one of the best players in the world, could face up to the global rugby showpiece going on around him. But he was glad he finally did.
"Yeah I guess anger did creep in a little bit,'' Carter said today. "I was just so gutted and didn't want anything to do with the World Cup. And then it hit me after five or six days and I realised the World Cup is here in my home country and I'm going to make the most of it like everyone else and actually get to some games.
"I wasn't going to get to any games, I dropped my lip a bit. I decided to get to the games and enjoy the atmosphere and it's been quite different for me. I've loved every minute of it - the people who have come into New Zealand for the World Cup and also the New Zealanders who have got right in behind it. I've really enjoyed that side of things and also continuing to work with the team has been great.
"It's a very exciting situation that we're in - a final against France, our arch-nemesis at World Cup time. We all know the past that we've had with the French. They're such a dangerous side when their backs are against the wall. Having a lot of doubters, that's when they're best and they've shown that in 2007 and also in 1999. We have to expect the unexpected and the French are the best at doing something to surprise us.''
Carter's world fell apart when he tore his left adductor tendon the day before the All Blacks were to play Canada in their final World Cup pool match on October 2.
He had successful surgery in Melbourne last week and today fronted the media for the first time. It says a bit for Carter's star quality that more journalists gathered to listen to him, a player invalided out of the World Cup, than for All Blacks assistant coach Steve Hansen's regular Thursday morning press conference.
Reporters from all parts of the world were eager to hear Carter's take on his injury, Sunday's final between the All Blacks and France, and whether the scar on his upper leg would adversely affect his underwear modelling career.
The French in particular were interested, given the game at the weekend, and Carter's time playing for Perpignan in the south of France. They would have been impressed with his pronunciation of the name of their team's captain Thierry Dusautoir.
Carter said his rehabilitation was going well and he was looking forward to a summer of preparation before beginning the new year with the Crusaders.
Following his injury he had been working with the All Blacks halfbacks and first-fives which was keeping him busy, but game days were tough, he said.
"It's not too bad during the week because I can still been involved and still give my feedback, but having watched the last two games, the weekends are the probably the toughest for me. Sitting there, I get extremely nervous. I'm not a very good spectator. That's when it's really tough, when I see the guys out on the field. I have a sense of no control, I'm so used to being out there and trying to make a difference on the field.''
As for his replacement, Carter says he has been surprised by the composure of the 22-year-old skateboarder from Manawatu who has slotted into his jersey so well.
"I've been really impressed with Aaron Cruden. It seems like he's been involved with the team all season."
- APNZ