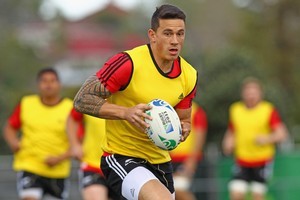 Sonny Bill Williams is better placed than most to appreciate the capabilities of Marc Lievremont's French side.
Williams, who served his rugby apprenticeship in Toulon between 2008 and 2010, told a press conference at Trusts Stadium in Waitakere this afternoon that facing the French would be a "dream final" this Sunday.
"The whole dream was to come back and play in the World Cup. Hopefully I get to stay in the squad, first and foremost. To get out there on Sunday would be a dream come true."
The All Blacks have consistently warned against complacency, and Williams was quick to reinforce the message.
"Playing against them in France, you can play against one side one week, and then play against them a couple of weeks later and they're a different team. So past form means nothing. We played pretty well against them last time, but that means nothing."
Williams was coy on what his plans were post-October 23, saying he was "just having too much fun" and going week-to-week trying to stay in the team.
Being in the All Blacks camp had been an enjoyable experience, he said, and spending hours on end with each other has helped forge team spirit.
"I think that's when you start seeing all these silly handshakes and things like that because you just get so close to one another and you form a friendship that will last just beyond the World Cup."
- Herald Online