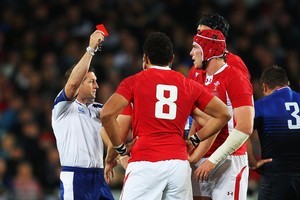 Each Monday, we bring you the best and the worst of the previous week's Rugby World Cup action.
Today: Referees on the receiving end, joyless stadium security and clueless French finalists
Good buggers
Alain Rolland
For kindly taking the pressure off Bryce Lawrence who kindly took the pressure off Nigel Owens. It's truly heartwarming to see how you referees have got each other's backs.
Halfbacks and second five-eighths
For picking up the mess left by the worst collection of first five-eighths ever assembled at a major tournament. Many of the best performances at this World Cup have come from the men on the outside shoulder of the first fives.
If Wales had a man in the No 10 as cool-headed and dynamic as the men on either side of him - the giant Jamie Roberts in No 12 and the lively Mike Phillips in the No 9 - they would be going into their first World Cup final.
The captain of the Rena
For putting sporting "disasters" into perspective.
Bad buggers
Eden Park security
Dimitri Szarsewski is pretty happy with the fact France are going to the final. He wants to celebrate with his kids. No chance, mate, there's rules to be followed. No kids on the pitch. Get a freakin' grip.
Andre Watson
Dumping on one of your own from an ocean or two away shows a lack of class. Plenty agree that Bryce Lawrence's non-policing of the breakdown was a problem, but to suggest he's finished as a referee now is crass. At any rate, nothing Lawrence did last Sunday smelled as bad as your handling of the 2003 final. Scrum penalty? Against England? Really?
France
It's not so much that you've overtaken the 2007 English as the poorest team to make a World Cup final, it's the complete lack of nous you showed when Wales had 14 men. What was that about? The French can be accused of many things, but a lack of imagination is not normally one of them.