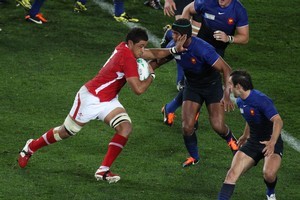 So France are in the Rugby World Cup final despite a wretched night against Wales - and a big night after it evidently - but do they care that they were dismal? Non.
Take coach Marc Lievremont, whose basic philosophy after the 9-8 victory over Wales was "c'est la vie. We're in the final. Moving on ..."
When he picked up a vibe from a couple of French questions along the lines that perhaps his side didn't really deserve to have reached the decider, Lievremont replied: "Don't be too enthusiastic about it.
"I don't care at all whether it was not a good match, whether Wales deserved to be in the final. We have qualified and that's all that counts."
And from his point of view, that's fair enough. Semifinals can be like that. Forget the quality, just savour the outcome. But Lord, it was depressing viewing.
It sounds as if some players savoured it rather better than the coach wanted, too. Their early-morning finish yesterday had Lievremont calling them "spoiled brats" last night after his request to lie low was ignored.
All of which doesn't change the fact that France have no chance in the final - irrespective of who they face - if that is the best they can muster.
"The guys played to win. When you see the level of Australia or the All Blacks we cannot even dream of winning a game against them playing like this," assistant coach Gonzalo Quesada said.
Even halfback Dimitri Yachvili admitted it had been a grind.
"Our attack was not very good. We wanted to win even if we didn't play," he said. "I'd prefer being in my position than the Welsh position, but they also deserved to win because they played really well."
That's semifinal football for you. Reach a final and lose, at least you've had the chance. Tripping at the last jump can be a shattering experience.
Still, France played so little rugby they barely deserved to maintain their 12-year routine in making cup finals. But they defended strongly, and with discipline.
Think of the last three minutes as Wales went through 27 phases, admittedly making little headway, but trying to manoeuvre a situation when France would concede a penalty, or work themselves into position for a drop goal.
Discipline and France down the years have not always been natural bedfellows. But they were on best behaviour as the clock ticked down - like kids in the classroom knowing one false move would have them standing in the corner facing the wall.
Wales didn't help themselves at times, but at least attempted things until the imagination bag was empty.
In attacking terms, France were simply dire. If they'd been half decent they should have beaten their 14-man opponents with some comfort.
But that doesn't take into account the bravery of the Welsh - whose heroes included fullback Leigh Halfpenny, second five-eighths Jamie Roberts, halfback Mike Phillips and notably No 8 Toby Faletau - combined with the lack of nous from Les Bleus.
Their performance bore out the old line that defence wins big games, no matter the wish for attacking intent to be rewarded.
A positive for France, apart from the defensive resilience? Morgan Parra growing into the No 10 role. His goalkicking was bang on and he ran confidently, made a couple of breaks and generally looked the part.
"I didn't have many doubts about his capacity of adapting himself to be first choice as No 10," former Argentine back Quesada said. "His mental strength is his main strength."
No one thought France had three successive big games in them. That was borne out on Saturday when they won with nothing remotely like a top display. But what about the final?
As Lievremont the optimist pointed out, "we are still alive and kicking".
"We have not played our best rugby so we have to believe in ourselves and in the fate of this team."
Added Yachvili: "Maybe the Welsh deserved to win, but it's all destiny." Fate? Destiny? What about the footy?