Latest updates ahead of tonight's Rugby World Cup semifinal between the All Blacks and Australia.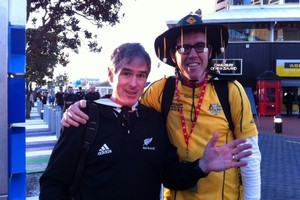 8.24pm:
More from Hayden: "New Zealand hero Piri Weepu and possible new hero Aaron Cruden are now on the pitch together. Piri is practicing kicks from in front of the posts. I will let you know if he falls down clutching his leg".

8.14pm:
Hayden Donnell at Eden Park: "Richard Kahui is on the pitch warming up. He is looking pretty nimble. No signs of that earlier injury".

8.09pm:
Wales captain Sam Warburton has been banned for three weeks after admitting making a dangerous tip tackle during his team's 9-8 Rugby World Cup semifinal loss to France.
The 23-year-old flanker appeared at a judicial hearing in Auckland on Sunday after being sent off in the 18th minute of Saturday's match by Irish referee Alain Rolland.
Independent judicial officer Christopher Quinland of England took evidence from Warburton and Wales coach Warren Gatland and considered video evidence before deciding on the penalty.
The suspension takes effect immediately and runs until Nov. 6, ruling Warburton out of the World Cup third-place playoff between Wales and the loser of Sunday's semifinal between Australia and New Zealand.
- AP

8.08pm:
Latest word from Rugby World Cup 2011:

"Queens Wharf is nearing capacity and is about to be closed to additional fans.

"Fans heading to the waterfront and wanting to see tonight's match on the big screen at a Fanzone are advised to go directly to Captain Cook Wharf on Quay St or the Wynyard Quarter Fanzone on the corner of Madden and Jellicoe Sts."
7.49pm:
nzherald.co.nz's Paul Harper is down at the viaduct:

"There's a carnival atmosphere on the waterfront in Auckland, with street performers entertaining the masses. Thousands lining up to get into the fan zone on Queens Wharf," he says.
The queue to get in stretched well over 200m. Captain Cook Wharf has been opened for the game. Big crowds in town on a perfect Auckland night."
7.45pm:
The All Blacks team bus has just arrived at the ground, greeted by ecstatic cheering. According to reports Richie was riding shotgun.

7.37pm:
More from Hayden:
"A group of South Africans are dressed head to toe in black and white jumpsuits, They tell me everyone from Cape Town is supporting the All Blacks.
"But they seem to be the only fans who are truly enjoying themselves. For everyone else, there's a hint of grim determination in their merriment.
"Some Irish fans are scattered about here. Their team may have been here too if they hadn't beaten Australia in pool play."
7.31pm:
Check out this
Al Pacino speech
from the movie Any Given Sunday cut to images of the All Blacks in action. Should amp up any All Blacks fan, however I'm sure not if anyone needs amping up.
7.26pm:
The latest from Eden Park courtesy of Hayden Donnell:

"There is more fanfare outside the park than in previous weeks. Skeleton stilt walkers, kapa haka groups, drummers and Australian volunteers handing out some kind of golden fan.
"The Australian team bus just arrived under heavy police escort."

7.18pm:
"Since 2008, a genuine dislike has brewed between the All Blacks and Wallabies..." starts Herald on Sunday's
Gregor Paul's article
on how much these two sides hate each other.

After reading that story I think we can rule out any pre-match hugs.
7.11pm:
Now less than two hours till kickoff. Hayden Donnell has been mingling with some Australian fans who are dressed for the occasion.
"James and Sean of Brisbane are quietly confident of an Australian victory," he says.
"That's not surprising, because the are decked out head to toe in golden suits. Even their shoes are gold. Only their ruffles are green. Sean says they have 'copped a fair bit of stick' today.
There doesn't seem to be much animosity between the fans so far. Just saw an All Blacks fan leaping up and down and hugging a Wallabies supporter he recognised in the street."
Let's hope SBW doesn't do the same when he sees old mate Quade Cooper in the tunnel.
6.54pm:
Hopefully for New Zealand fans this result isn't a premonition of tonight's game...but the Kiwis are trailing the Kangaroos 26-0 at halftime in their one-off test in Newcastle.
While nzherald.co.nz reporter Hayden Donnell adds: "An Australian and a New Zealand supporter are playing Rugby 2011 on an x-box inside Kiwiana. The All Blacks are winning 14-7 and the Aussie number ten is having a nightmare game."

6.24pm:
Hayden Donnell has found a few diehard All Black fans which shouldn't be too hard 200 metres away from Eden Park.

"Trevor and Dave of Poroporo Rugby club in Whakatane have watched every World Cup since 1987. They aren't suffering the gut churning fear many New Zealanders woke up to this morning, despite sitting through many heartbreaking losses.
"Trevor is picking the All Blacks to win by 20 points or more. 'The only team that can beat the All Blacks is the All Blacks' he says.
"His wife is not so sure. She is worried about him returning home in an unshakable misery. Dave says 'We are going to make a statement tonight'."

6.15pm:
Latest news out of the French camp: First five-eighth Morgan Parra hurt his neck in France's semifinal win over Wales on Saturday and will be restricted to light training ahead of the Rugby World Cup final.
Parra was wearing a neck brace as a precautionary measure today, and was among four players who had X-rays. The tests revealed no serious injuries and coach Marc Lievremont expects all of them to be fit for the weekend final against either New Zealand or Australia.
Dimitri Yachvili continues to recover from a bruised thigh he sustained against England in the quarterfinal.
- AP
6.03pm:
nzherald.co.nz's Hayden Donnell has left Eden Park to soak up the atmosphere at the surrounding bars in Kingsland.
"John, a South African, is wearing a tight Australian jumper in a Kingland bar. He lost a bet to his Australian friend on the quarter-final result and is distinctly unhappy about it. He is picking the All Blacks to win tonight. If he makes it through the game."
While Paul Harper adds from the viaduct: "The Red Checkers are flying overhead as All Blacks and Wallabies fans enjoy the gorgeous weather on Auckland's waterfront. More Kiwis than Aussies but those yellow shirts are hard to miss".

5.57pm:
Two articles looking at the number 10s playing in tonight's game.
The Herald on Sunday's Michael Burges
s says the
result hinges on the unpredictable Quade Cooper
who has failed to shine at the World Cup so far.
Meanwhile the All Black first-five Aaron Cruden has played just over a half of rugby at the tournament. All Black great Inga Tuigamala is happy to see the Manawatu number 10 get a chance to shine who he says is fearless.

5.49pm:
Meanwhile nzherald.co.nz's Hayden Donnell is at Eden Park already! It seems to just be him and the choir at the ground at the moment.

"The only update I can give you is that the choirs have finished practicing the Australian anthem (once through) and are on to God Defend New Zealand (twice through and counting)," he says.
"Conditions are great. It's sunny and dry and perfect for the kind of rugby both NZ and Australia like to play. The Phoenix game is on TV in the media room. Slightly embarrassing given the number of European and British media milling about in here."

5.35pm:
nzherald.co.nz's Paul Harper is checking out the crowds gathering down at party central. He says: "At a bar on Auckland's waterfront watching the mighty Wellington Phoenix. Pubs here are packed full of yellow and black. Real buzz around the city ahead of the game".

5.24pm:
Some history lessons for you: The All Blacks have won 18 of their 22 encounters against Australia at Eden Park, while Robbie Deans as a 21 percent win-loss record against the All Blacks. For more statistics on All Blacks vs Australia
check out this great graphic
.
5.03pm:
Here's a question not many New Zealanders want to think of a few hours out from kickoff:
What happens if the All Black lose?

The Herald on Sunday's Andrew Alderson writes: "Passion and support is welcome, but experience says we castigate losing All Blacks teams irrationally".

4.44pm:
Which team will win tonight's clash? 10 former internationals, including the likes of Tana Umaga, Josh Kronfeld and Nick Farr-Jones, share their thoughts on the big game with
each predicting a winner
.
4.30pm:
So the day has finally come and we are less than five hours away from the All Blacks' semifinal clash with the Wallabies at Eden Park.

Stick with us as we bring updates from around the city as Auckland prepares to host possibly the biggest All Black game ever.
nzherald.co.nz's Paul Harper and Hayden Donnell are heading to the ground and will send updates from fans of both camps and what the feeling is just hours out from the match.

- HERALD ONLINE