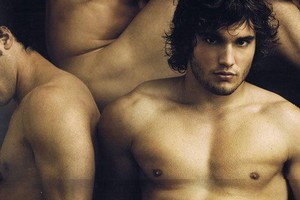 Spy's photography team bring you their picks for the sexiest rugby players of the Rugby World Cup semifinals.
1 - VICTOR VITO
Team: New Zealand
Age: 24
Pros: He's a former private school boy (he boarded at Wellington's prestigious Scots College) so you know he'd have impeccable manners. Plus, he's a uni graduate with an arts degree (majoring in classical studies) and is working towards a law degree, so if rugby no longer proves fruitful he can still keep you in the manner you'd like to be accustomed.
Cons: His Wikipedia page says he's a part-time model. We know his muscled torso was immortalised in bronze for the Weta Workshop sculpture commissioned by Wellington City Council. We're not so enamoured by men who pose and preen, but hey, he's pretty, so who's complaining?
2 - MAXIME MERMOZ
Team: France
Age: 25
Pros: He's an Armani underwear model and jokes his billboards in Paris weren't as big as Dan Carter's ones for Jockey. We hope that's a locker room euphemism. Size evidently does matter for this Le Coq.
Cons: He posed for a pic from the controversial Dieux du Stade calendar wearing nothing but hair gel and a sprinkling of dirt.
Actually, that's not a con. We just couldn't find anything negative to say.
3 - SONNY BILL WILLIAMS
Team: New Zealand
Age: 26
Pros: He is the first Muslim to play for the All Blacks, and possibly the hottest convert to boot.
Cons: Rumoured to be dating touch rugby player Aleisha Berryman. However, we're living in denial and until she's sporting a ring on her finger, we figure we could still have a chance.
4 - RICHARD KAHUI
Team: New Zealand
Age: 26 Pros: He may have injured a hamstring - but at least it's not his groin. That's the area we like our men to be injury free. His relationship status is unknown, but we suspect there would be many aspiring WAGs in Waikato keen to vie for his attention.
Cons: You'd need to relocate to Waikato.
5 - ALEXIS PALISSON
Team: France
Age: 23
Pros: Posed for the 2011 Dieux du Stade (Gods of the Stadium) calendar as Mr February, wearing a strategically placed piece of fabric and come-hither eyes. Has a sort of beef-jock Ashton Kutcher appeal. Cons: He's heterosexual but he posed for the cover of French gay magazine Tetu in July sporting a bizarre tattoo motif in the manner of a Maori warrior that looks more like a bad marker pen job.
6 - JEROME KAINO
Team: New Zealand
Age: 28
Pros: He's come a long way from the drink-driving charge. Now he says he wants to be a leader in the squad and we reckon he could be the next Michael Jones. As a kid he used to work in a store part-owned by Jones.
Cons: He's off the market and happily married to Diana with whom he has a son and daughter.
7 - QUADE COOPER
Team: Australia
Age: 23
Pros: He regularly texts his grandma, Millie, who lives in Kaikohe, which means he must be a nice boy.
Cons: He briefly toyed with the idea of returning home to his birthplace to play Super Rugby in New Zealand, but the Queensland Reds kept him. Then he met gorgeous Stephanie Rice and, well, we have no chance of tempting him back now.
8 - MIKE PHILLIPS
Team: Wales
Age: 29
Pros: He's tall (1.9m) dashing and no longer dating pop star Duffy. Phew.
Cons: He's got a bit of a temper and has been known to get in argy-bargy sledging matches on the field and late-night scuffles off.
9 - ADAM ASHLEY-COOPER
Team: Australia
Age: 27
Pros: He did a shout-out to his Twitter fans last week because his dad was stuck in a campervan in Wellington without an available campsite to park at. Bless. Petone Rugby Club apparently came to the rescue.
Cons: He was snapped by team-mate Quade Cooper getting a rub-down from the physio and the pic went on Twitter. "Now this is an interesting physio position," Cooper giggled. "Think I might give physio a miss now." Poor AAC. We wonder what his Sydney-based girlfriend thought. You'd think Cooper would have taken a lesson from his girlfriend Stephanie Rice who was mocked for making silly homosexual-inference tweets.
10 - DAVID POCOCK
Team: Australia
Age: 23
Pros: Conquered Mt Kilimanjaro and likes to surf and paddle-board which no doubt contributed to his toned physique. He founded the not-for-profit organisation Eightytwenty Vision which helps the Nkayi community in Zimbabwe (his country of birth) by offering skills for self-sustenance. Smart and caring - is he the perfect man?
Cons: Last year he married his fiancee, Emma, in Perth which reportedly made his mum, Jane, very happy. His female fanbase, not so much.
11 - LUKE CHARTERIS
Team: Wales
Age: 28
Pros: The 2.1m Welsh lock owns an apartment in Egypt and may expand his international property portfolio, meaning you would need to have a travelling wardrobe.
Cons: You'd also need to stand on tip-toe in towering heels to get a smooch from the gorgeous giant.
12 - DIGBY IOANE
Team: Australia
Age: 26
Pros: He reportedly back-flipped on a verbal agreement to join a Japanese rugby club for $1 million a season to stay with the Queensland Reds, proving money isn't everything.
Cons: He has a hibiscus flower tattooed on each shoulder and angel wings inked across his back, perhaps illustrating an inner feminine side we could happily leave.