France 9 Wales 8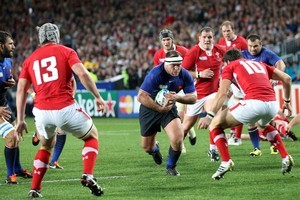 There must be something the French like about New Zealand, having made the final here 24 years ago. They will be back there again having somehow survived last night.
Somehow they clung on against a rampant Welsh team who deserve medals, each and every one, for their bravery, for their refusal to believe they were down and out when everyone else thought they were.
They were rampant; they were better than France for long periods and yet they are out.
It is the French who are back in the final again - their crazy, mad, oh so French campaign taking another incredible twist last night.
It was only two weeks ago they were being scraped off the sides of the Cake Tin, their confidence, their pride, their souls even, ripped to the last clinging fibres after losing to Tonga.
Yet they wake up this morning knowing they can write one more scarcely believable chapter in a story already too far-fetched to take it all in.
Maybe the rugby gods have been taken with the French because Les Bleus were dealt a stunning piece of good fortune when Welsh captain Sam Warburton was red carded after 18 minutes.
It was a horror decision by referee Alain Rolland - the skipper was clumsy rather than malicious when he lifted Vincent Clerc off his feet and a yellow would have sufficed.
Only the meanest of spirits could not have felt for Warburton, one of the undisputed stars of this World Cup, as he trudged to the sideline, the tears already welling.
He knew what his departure meant; he knew that the improbable had just become the impossible and whatever bravery, resilience and pride the 14 left on the field were able to muster, it was unlikely to be enough.
It was like sitting on an ice-cream - the damage may not be immediate but it was irreversible. That Wales stayed in the contest for as long as they did was due to one of the gutsiest performances ever produced at a World Cup.
Their depth of character was astonishing and, for swathes of the second half, it was France who looked like they were a man down.
While the French resorted to kick and chase, Wales retained their pass and run philosophy to the end and even a man down, they stretched and broke the French who had the look of dead men walking the instant Mike Phillips scored from another blindside thrust.
But they held on. The Welsh couldn't land either a conversion, drop goal or penalty when they needed to and out they went.
Maybe that was inevitable the instant Warburton was gone. James Hook sprayed a few long range penalties wide shortly after Warburton's departure, the bigger picture began to emerge out of the Eden Park gloom.
France were going to slowly squeeze the Welsh into submission; they would play python; Wales the under-equipped and ultimately doomed prey. With only seven men in the scrum, Wales were scrambling. The French, maybe the only side capable of really being able to work the All Blacks over in the set piece, were controlled and ruthless.
They sensed there was no need to overdo things; that they needed to work to keep the Welsh up long enough to get the shove on. The pressure would eventually tell - space would either open up or penalties would come and no one should doubt how the mood of the entire French team can be influenced by what happens in the scrum.
They dropped their bundle when they were being rattled by the All Black scrum a few weeks back. Last night they came alive at the sight of the carnage they were inflicting.
Morgan Parra, such a game and lively thing, played with his head up - reasonably sure he had all the time in the world to pick his options. Jamie Roberts was having to split his time between second five and blindside. He was fairly useful on the side of the scrum - what with being the size of a small house - but ittook its toll on Wales' key attacking weapon.
He had a few Frenchmen flying in his wake but always, always, it came back to Warburton not being there.
That red card turned the game. Not that France will care or take Warren Gatland's advice: "I just hope they play a lot more rugby than they played tonight."
France 9 (M. Parra 3 pens) Wales 8 (M. Phillips try; J. Hook pen). Halftime: France 6-3.