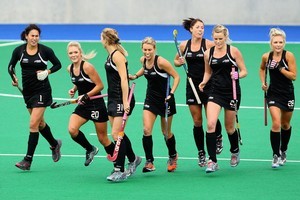 If New Zealand hockey wins a medal at next year's London Olympics, Hawke's Bay will be one of the main reasons why and one of the benefactors.
The game in this country is in its healthiest state with the healthiest international rankings since the national men's side won Olympic gold at Montreal in 1976 - but the reasons are not purely sporting.
The sport's finances are burgeoning; sponsors are queuing and they have spared the international governing body's blushes by stepping in to host the men's Champions Trophy in December with just three months' notice after India defaulted.
Yet what happens on the pitch is only part of the revolution. In an age where sporting sponsorship can be a struggle, Hockey New Zealand (HNZ) have excelled. They have signed the likes of Ford and the Hawke's Bay province and philanthropist Owen Glenn in a series of bold deals to guarantee backing for their infrastructure.
The Hawke's Bay arrangement is considered unique. HNZ have secured signatures from 23 business entities in the region such as wineries and construction companies who see value in backing the sport as a provincial brand rather than under their own business names.
Black Sticks men's vice-captain Shea McAleese is from Hawke's Bay. He can understand why businesses want to commit: "It's hard to ask one sponsor for 'x' amount of dollars, whereas doing it together gets mutual benefit, lifting the profile of the Hawke's Bay community. We are one of the best twin high-profile sports going around. The status of both teams in the New Zealand community is quite even."
Meanwhile, Glenn, a hockey enthusiast, has pledged $1 million to the Hockey Foundation provided other donors match that figure with what he's described as a "hand-up not hand-out" approach. HNZ is nearly halfway there; they expect to reach Glenn's mark by the end of March. HNZ has also turned a $234,400 loss for the six months to December 2009 into a 2010 surplus $56,620 on the back of $4.6 million in revenues.
A key driver behind the success is seen as Hilary Poole who was appointed chief executive in August 2009. Poole warns there's plenty left to do.
"We're not flush and we're still a contestable [rather than targeted] sport when it comes to high performance funding. But we'll continue to be funded into 2012 provided we meet our performance targets."
However, the sporting side is doing its bit too. The women defended their Oceania Cup (and won their first three-test series against Australia) last week. The men produced their first win over Australia in 12 years, but were beaten for their Cup on goal difference. Both teams have qualified for the Olympics and are ranked at their highest since rankings were established in 2003. The women are sixth; a position they held in 2004 and 2005 while the men are seventh; a position they held in 2008 and 2010.
Importantly, both teams have improved their results against top-six ranked teams over the last two years. This is a key criterion for Sparc funding. This year the women have beaten top-six sides 30 per cent of the time compared to 25 per cent (2010) and 13 per cent (2009). Those results were reinforced with the country's first medal at a Champions Trophy in July.
Coach Mark Hager says it channels towards one objective: "We're giving ourselves a chance at an Olympic medal. The amount of international hockey we've had in the past two years has given the players a lot of confidence."
The men have had similar success. This year they beat top-six sides 27 per cent of the time compared to 21 and 16 per cent in the previous two years respectively. Both teams medalled at the Commonwealth Games a year ago; the women silver, the men bronze.
Poole's focus now is on the Champions Trophy, to which Glenn has naming rights, acknowledging his significant recent investment.
Poole is taking a prudent approach as Hockey New Zealand steps into the unknown: "We're developing a family of sponsors and tickets go on sale to the hockey community shortly. We're building temporary stands at the North Harbour venue. Their size depends on ticket sales. The tournament might be small in size by Rugby World Cup standards, using just the one venue, but it will be big in global impact."