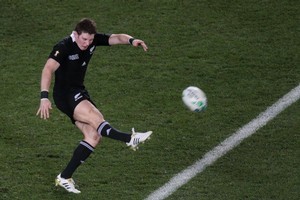 What a fascinating and nervous prospect we have in front of us in tonight's Rugby World Cup semifinal, particularly when it comes to 9 and 10 on both sides.
It was heartwarming to see Aaron Cruden come into the match against the Pumas and do so well - and with a bit of a swagger.
Then there was Piri Weepu - and what a game he had. At last we have found our best No9 and he really took to it. True, the type of game against the Pumas was probably more suited to him than a game that goes wide like the game against the Australians will do - but it was a pleasure to see him running the game so well; wanting the responsibility and enjoying it.
The All Blacks needed it. With all due respect to Colin Slade, I don't think he had quite gained his team-mates' confidence; and it wasn't all his fault.
He's had a lot of time out with injury and it takes time to find your feet at test level and World Cup level - and he hasn't had that time. So giving match-running responsibility to Weepu was a good call - and I think we saw the difference when Cruden came on.
He's played a lot with Weepu, Nonu, Smith, Jane and co and I think they knew he could take the ball to the line and were prepared to give him the licence to to do that.
Slade, I felt, hasn't really got to that stage yet and maybe he was getting barked at and ordered around a bit more while he finds his feet. So, finally, after all that twiddling and tweaking, we have somehow discovered our best 9 and 10 combination now that Daniel Carter is out.
That must make it sound as though I believe 9 and 10 is where the game will be won and lost tonight. No. It'll be won in the forwards and if the pack - and I believe that is the best pack that could have been chosen - does the business, it won't matter if we have Carter or Cruden there.
Tony Woodcock is beginning to find real form, as is the whole front row, and I was delighted with the way the scrum went against Argentina last weekend. Brad Thorn had a big game, blasting through the rucks (and we'll need more of that); Sam Whitelock stole some ball and had a clever match; and Jerome Kaino is just the best No6 in world rugby right now.
Kieran Read allows Richie McCaw to play better, as I have said repeatedly, and if the tight five can launch our loose trio, that will help negate the No7, David Pocock, who's probably the best in that role right now.
The key will be coming out hard, putting the Australians on the back foot, reducing unforced errors and taking opportunities. That's a basic recipe for any professional sport but particularly rugby and particularly against the Australians.
If you limit your errors and take your opportunities, you limit their ability to hurt you.
I think that game against the Boks - where they had to make hundreds of tackles - could tell on the Wallabies. I was interested to see Berrick Barnes on the bench and am sure they'll want to get him on pretty soon in the semi.
He offers a bit of variety which they may need - Pat McCabe is essentially a defensive move to halt Ma'a Nonu and may be a bit banged up - and they may need Barnes if they need to find a way through.
But, having said all of that, the Aussies can do it to us just like we can do it to them.
I am nervous about this match - but that is usually good for an All Black. If the All Blacks are nervous, they usually play well. These guys have enough experience to harness the fear; they know what it is all about and they have to score the crucial points.
If they do that and let the scoreboard build the pressure, they can win well.
The way the game is played these days it is possible to shut down a game from a long way out. It's not the best example, perhaps, because England were so awful, but the French pretty much shut that match down from 30 minutes to go.
The All Blacks were also patient against Argentina and they'll need that patience again. It was good to see them not panicking about not scoring a try - they scored 18 points from the boot before the first try. They will need to adopt a stance of building pressure, cutting errors and scoring consistently.
So, I'm nervous ... but in a good way.