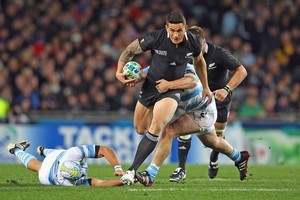 The once fickle mind of Sonny Bill Williams is now believed to be firming towards the idea of staying in New Zealand for one more season.
The Blues are keeping quiet but are believed to be confident once again that Williams will be joining them - with an announcement expected after the Rugby World Cup.
Given negotiations with Williams and the New Zealand Rugby Union began early this year, the saga has been painful and protracted - but none of that will matter if the national body can hook their man.
The appeal of Williams has only grown at this World Cup. He's impressed with his versatility and the NZRU want him to sign to bring the closure they thought they had weeks ago.
Left out of the match day 22 for the Bledisloe Cup clash in Brisbane in August, Williams returned to Auckland to say he was no longer sure whether he would be recommitting despite having given verbal assurances he would.
He said he would wait until after the World Cup before deciding whether he would remain here and play for either the Chiefs or the Blues in 2012.
It felt at the time that his reluctance was a direct result of finding himself on the outer of the All Black squad. Having been a major star from his earliest days through to his time with the Bulldogs in the NRL, the concept of being on the outer was alien to Williams.
There were issues with a conflicting sponsorship arrangement his agent was trying to strike, but that was always a smokescreen - camp Williams went cool on the All Blacks when they went cool on him.
All Black coach Graham Henry hinted last week at what was behind the sudden cold shoulder thrust at Williams. Having chased him back from France and effectively thrown down the red carpet for him, the All Black coaches felt they weren't getting enough back in return. After a storming start to Super Rugby this year, Williams went quiet and largely stayed that way during the Tri Nations.
The coaches wanted to jolt Williams back into his best and perhaps they felt they needed to remind the other players in the squad that even the biggest names are not immune from the selection blade.
Perhaps the legend of Sonny Bill - created by those outside the camp - had become an issue for some other players.
"He's played well at the World Cup," says Henry of Williams. "You can't deny that. He's made a difference when he's come off the bench. He's scoring tries. The tries he scored against Canada, I don't think there are many other guys who would have been able to score those. He has got some ability.
"I think he is enjoying what he's doing and I think he's enjoying the environment of the All Blacks. When you are playing consistently, that's a big part of it, but the trouble is you can't play 30 guys every week.
He's taken his chances but there is a midfield combination that is well established playing particularly well and that makes it difficult for him - so he's taken his chances elsewhere.
"He hasn't played a lot of test match rugby and he's not been in this environment very long. He gets a lot of exposure so there is this huge expectation on him. I guess when you haven't been in the environment very long, other people take notice of that. He's enjoying it and other people have accepted him."
Call it shock therapy or an old fashioned kick up the backside but the strategy has worked. Williams has been a different player at this World Cup - switching seamlessly from second five to wing and having an impact in every match.
He's been hungry to be involved - working hard to get off his flank, and his energy, enthusiasm and desire to be out there have been obvious. That commitment and hunger is precisely what the coaches and his team-mates wanted to see.
For all the talk about him wanting to be part of the All Blacks, there was a growing feeling within the team that they wanted to see it as well as hear it. Halfback Andy Ellis suggested that confirmation has been delivered and that Williams has proven to the squad that he believes in the notion of the team coming first.
"A lot of you see him in the spotlight but when you get him away from that, he's really a quiet and humble guy, loves a joke, probably that Australian league upbringing," says Ellis.
"He deals with it really well. He's got a good head on him. He knows very much it's about the team. He does what he can for the team and, at the end of the day, that's what it's all about, trying to win that big one at the end. I can promise you he really genuinely loves the team and he wants the team to do well."